Retour Index général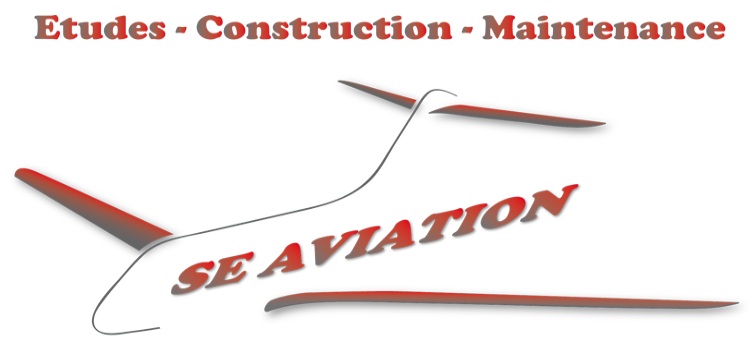 ---
Utilisation de la Colle époxy bi-composant
AXSON Adekit A175/400
AXSON Adekit A175/400
two component epoxy glue user guide
[mise a jour / updated 02/11/00] [maj 05/2008]
notre référence / our reference
ZMACL2300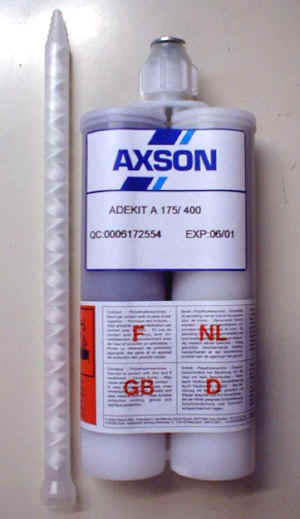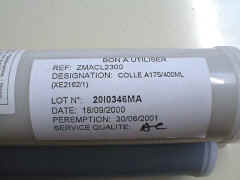 Cette colle se présente en une cartouche à 2 compartiments jumelés, l'un comprenant un composant blanc, l'autre un composant noir.
This glue presents two twin compartments, one with white component and one with black component.

Colle utilisée pour les collages / This glue can be used to bond following materials :
aluminium - aluminium / Aluminium to aluminium

aluminium - carbone / Aluminium to carbon

carbone - carbone / Carbon to carbon

bois - carbone / Wood to carbon

bois - aluminium / Wood to aluminium

Elle a la particularité de pouvoir être utilisée au contact des hydrocarbures.
Préparation et utilisation de la colle.
How to prepare and use this glue.
Travaillez avec des gants
Use gloves
Déstockez la colle avant utilisation afin qu'elle soit à la bonne température pour le collage
Depreserve the glue before use in order its temperature reaches 18°C.
Lors de votre collage contrôlez que la température soit comprise entre 18 et 25°C
Check temperature still is between 18 and 25°C during bonding.
Avant de commencer le mélange assurez vous que les éléments à assembler sont prêts et que la préparation est bien faite
Before starting to mix both components, check both surfaces to be bonded are correctly prepared :
Ponçage / Abrade
Dépoussiérage / Remove dust (vaccum clean)
Dégraissage / Degrease
A partir du mélange ,vous disposez d'environ 1h30 pour réaliser votre assemblage, la manipulation de la pièce colle est possible après 24 heures.
From the moment when the glue is mixed, you must finish your assembling within 1h30. Do not touch the assembly during 24 hours after bonding.
Mélange de la colle.
Glue mixing.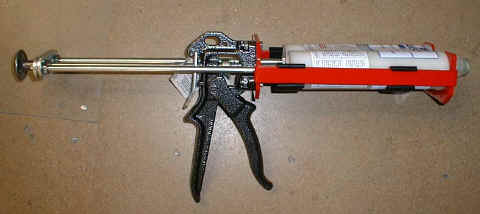 2 méthodes possibles / Two methods can be used :
sans mélangeur automoatique / Without mixer nozzle :
Utilisez 2 bâtonnets propres
Use two clean spoons.
Avec le pistolet double, expulsez la quantité de colle voulue dans un bol en plastique (min. 50 g). Nettoyez l'embout de la cartouche et rebouchez-la.
Pour the required quantity of glue in a plastic bowl (50 gr mini) with glue gun. Clean glue cartridge nozzle and close it with its cap.
Mélangez alors de façon à obtenir un mélange uniforme ( environ 1 minute ).
Mix then during one minute both components in order to have homogeneous mixture.
Il est interdit d'utiliser le bâtonnet ayant servi au mélange pour appliquer la colle. (le produit qui adhère au bâtonnet qui a servi au mélange n'est pas bien mélangé)
Do not use (in any case) the same spatula for mixing and for applying the glue. (there is always some unmixed compounds remaining on the spatula used to mix them)
avec mélangeur automatique / With mixer nozzle :
Pour les grosses quantités de colle, il existe des embouts mélangeurs qui se vissent sur les cartouches.
Ils permettent d'obtenir rapidement un mélange idéal, MAIS
- ne réutilisez pas un embout avec de la colle à l'intérieur depuis plus de 15 minutes
- quand vous utilisez un embout neuf, jetez systématiquement les 50 premiers grammes de mélange, jusqu'à obtenir un mélange homogène et gris.
If you need a high quantity of glue use mixer nozzle to be screwed to cardridge nozzle.
This mixer nozzle ensures a very good homogeneous mixture BUT :
- do not use twice the same mixture nozzle if the glue has stayed in the nozzle for more than 15 minutes.
- With a new mixture nozzle, do not use the first 50 gr of mixture in order to have a homogeneous grey.
Application de la colle / How to apply the glue.
Lors de l'application de la colle, il faut combattre les BULLES. Il existe des techniques très simples permettant de les éviter, mais il est aussi très facile d'en provoquer si on ne fait pas attention. Le problème est que l'aspect extérieur d'un collage ne peut pas déterminer s'il emprisonne des bulles. Suivez donc les quelques conseils suivants.
When applying the glue the bubbles must be avoided. Very simple methods can be used to avoid them but it is also very simple to create bubbles without noticing them. External aspect of bonding can not indeed show if bubbles are inside the glue or not. Thereore carefully follow the instructions described below :
Ce qu'il faut faire / What you must do
- Au pistolet
With glue gun :
Étalez de la colle avec une spatule sur environ 1 mm d'épaisseur (sur les 2 surfaces à encoller si le manuel de montage le précise). Ensuite, sur une seule des 2 surfaces, appliquez un cordon de colle rectiligne (pas de "S" ni de "boucles") et ne l'étalez pas.
Spread a 1 mm thick layer of glue with a spatula (across both surfaces to be bonded if mentionned in mounting instructions). Then apply linear glue lead (not S-shape) across 1 surface only. and do not spread it.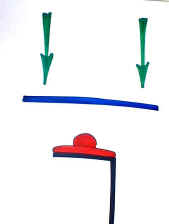 Quand vous amenez l'autre pièce, il n'y a qu'un seul point de contact, l'air peut s'échapper.
Thus when adjusting both surfaces together there is one contact point only.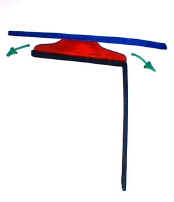 Ainsi, aucune bulle n'est emprisonnée, le collage est optimal.
Therefore air bubbles can not be created ; this method ensures an optimal bonding.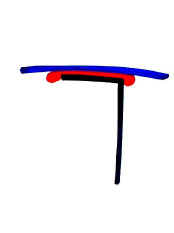 - A la spatule, il faut réaliser un dôme régulier, selon le même principe
- When using a spatula an even cone must be made according the same method than previously decribed.
Ce qu'il ne faut pas faire / What you must not do
Si vous étalez un bourrelet irrégulier dans le sens de la longueur, ou si vous appliquez un cordon de colle qui fait des "boucles", etc...
If a non even glue lead is made along the bonding line i.e. S-shape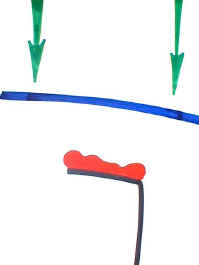 il va exister au moins 2 points de contact simultanément quand on va amener l'autre pièce, ce qui va emprisonner de l'air. L'air ne va pas pouvoir s'échapper car la colle est très visqueuse.
Two contact points are created between both surfaces to be bonded and therefore air bubbles are kept inside the bonding.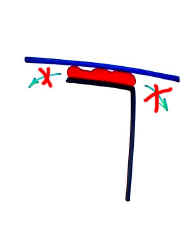 Même quand on met le collage sous pression, l'air ne va pas s'échapper. Un tel collage peut emprisonner 75% de bulles, avec des conséquences désastreuses sur la solidité. Par contre, vous pouvez remarquer que l'aspect extérieur du collage est identique au collage idéal. Alors FAITES ATTENTION !
Since the glue is too viscous, these air bubbles can not be removed when pressing hard the bonding. Such a bad bonding can contain up to 75 % of air bubbles and therefore generates a very unsafe and weak assembly. The external aspect of such a bonding is identical to a perfect bonding. Therefore be very careful when using this type of glue.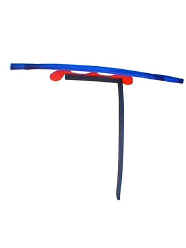 Cas des "collages-rivetages"
When the assembly is both glued and riveted
Avec cette colle, il doit subsiter un film de colle relativement épais (env. 2/10è) entre les surfaces à encoller.
C'est pourquoi il ne faut JAMAIS riveter les deux pièces quand la colle est fraîche : la pression exercée par le rivet chasse toute la colle entre les deux pièces, et le collage n'est pas correct. Il faut donc SYSTEMATIQUEMENT utiliser des bitards (qui exercent une pression beaucoup plus faibe), et les remplacer par les rivets après séchage complet de la colle. On conseille d'enduire les rivets de colle avant de les poser.
With this glue, there must be a quite thick film of glue -(about 2/10è mm) between the surfaces to be assembled. That's why you must NEVER rivet the parts when the glue is fluid : the pressure applied by the rivet slides out all the glue, and the glueing is not correct. So you must ALWAYS use some Cleco fasteners (which apply a lower pressure), and replace them by the rivets after the glue has cured. You should glue the rivets when you put them on.