Retour sommaire.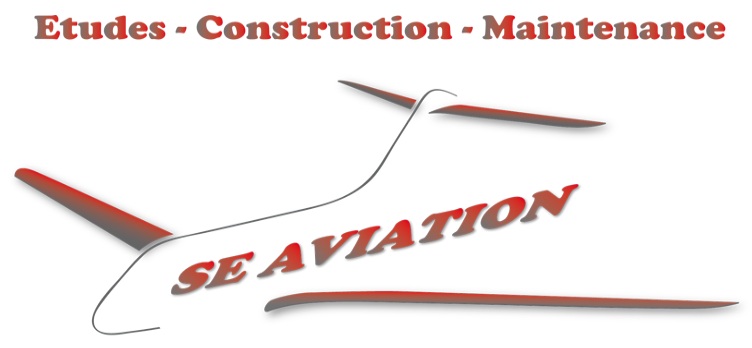 ASSEMBLAGE DU TAB ALU
ALUMINIUM TAB MOUNTING
---
---
REMARQUES
il y a une astuce :
il faut glisser la ferrure d'articulation centrale dans la fente du revêtement d'extrados avant d'y fixer les nervures (sinon la rotule empêche la pièce d'entrer dans la fente)

Il vous faudra riveter des rivets entre les nervures, ce qui est impossible avec un embout de pince à rivets normal. Le plus simple est de faire une entretoise de 10 mm de long, que vous glissez sur la queue du rivet entre la tête et l'embout de la pince.

tous les assemblages sont rivetés et collés avec de la colle époxy A 175/400 (une couche très fine suffit)
NOTES
* Slide the control arm through the slit in the top skinbefore fixing the rib
* It is not possible to fasten rivets in the ribs with a normal rivet gun. The simplest solution is to prepare a spacer 10mm long to slide over the rivet stem.
* All of the joints are riveted and bonded with epoxy XE2162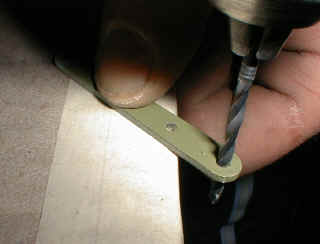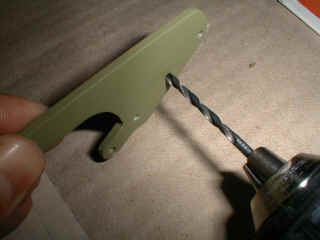 Dans les pattes d'articulation, repercez :
- les trous des rivets de fixation D 2.4 mm
- les trous d'articulation D 3 mm
In the control and articulation arms, re-drill :
- the rivet holes with a 2.4 drill.
- the articulation holes wit a 3 mm drill.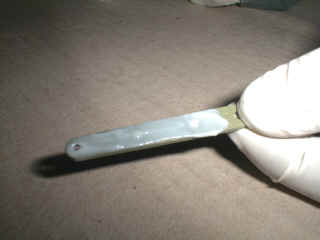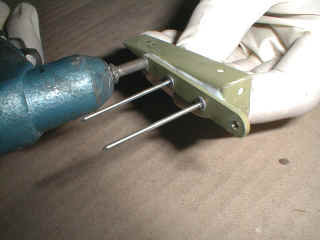 Encollez les pattes de fixation et fixez-les sur les nervures avec des rivets pop alu TP (repère 7 du TCI PL1302).
Glue the fixing plates to the ribs and rivet with protruding head aluminium pop rivets (TCI PL1302)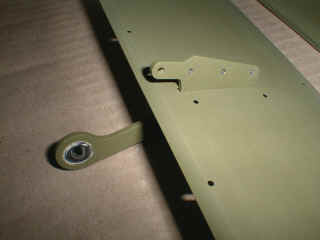 Glissez la ferrure d'articulation centrale dans la fente du revêtement d'extrados.
Slide the control arm through the centre slot in the upper surface.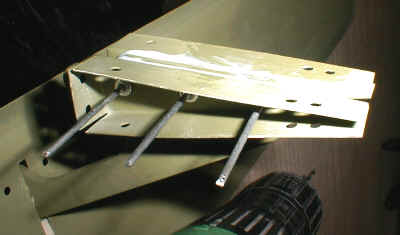 Collez et rivetez avec des rivets pop (repère 7 du TCI PL1302) une nervure de chaque coté de la patte d'articulation centrale. Utilisez une entretoise sur la queue des rivets pour pouvoir serrer en passant entre les rebords des nervures.
Glue and rivet using aluminium pop rivets (7 of TCI PL1302) one rib each side of the arm. Use a rivet spacer (as described above ) to fasten the rivets.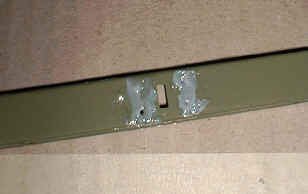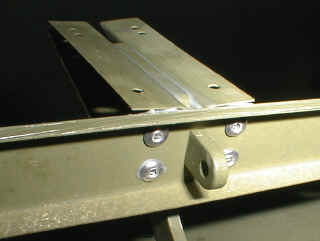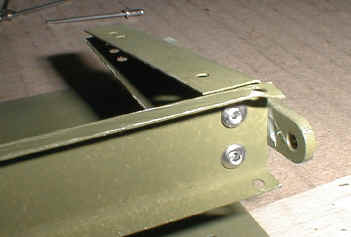 Encoller le longeron en face des nervures. Rivetez avec des rivets (repere 8 du TCI PL1302).
Glue and rivet the spar on the face of the ribs (rivets 8 of TCI PL1302).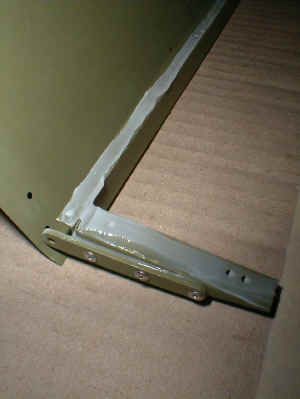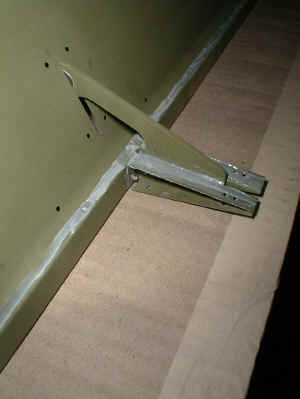 Encollez les nervures et le longeron sur la face extrados.
Spread glue on the upper surface of the ribs and the spar.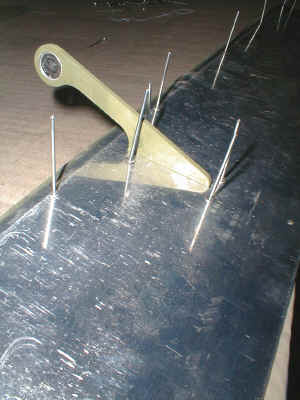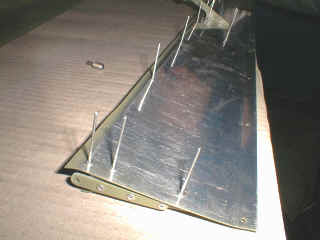 Placez tous les rivets (repère 8 du TCI PL1302) puis rivetez les nervures et le longeron.
Place all the rivets (8 of TCIPL1302) before fastening the ribs and spar.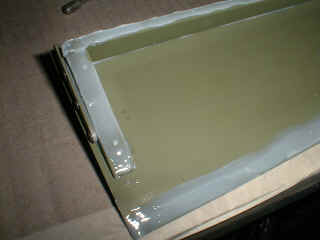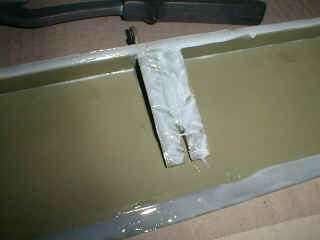 Encollez le longeron, les nervures et le bord de fuite (une pellicule très fine suffit).
Spread glue along the spar, ribs and trailing edge ( a very thin layer is sufficient ).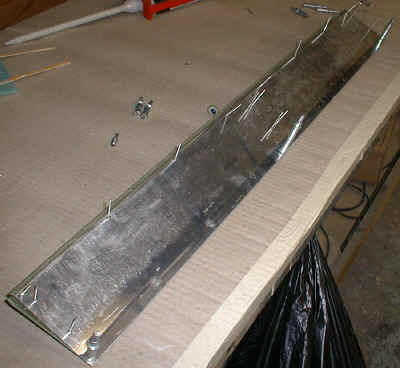 Remarque : il ne faut pas riveter le bord de fuite maintenant sinon la tôle se gondole entre les rivets.
DO NOT rivet the trailing edge at this stage or the rivets will deform the surface.
- Positionnez tous les rivets (repère 8 du TCI PL1302) sans les serrer.
- Au bord de fuite, mettez un bitard à chaque extrémité, et éventuellement au centre.
- Serrez les autres rivets.
- Position all the rivets ( 8 of TCIPL1302 ) without fastening at this stage.
- Place a Cleco at each end of the trailing edge and possibly in the centre.
- Tighten the rivets.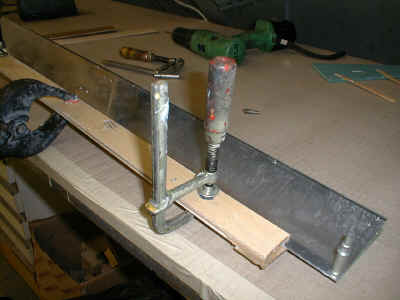 Serrer le bord de fuite entre deux cales en bois en laissant les bitards aux deux extrémités (sinon on risque de faire glisser les revêtements l'un par rapport à l'autre et que les trous ne coïncident plus)
Ainsi le bord de fuite sera parfaitement rectiligne et sans bosse.
Clamp the trailing edge between two wooden rails, so that the trailing edge will be flat and even ( if you remove the Clecos there is a risk the skins will slip out of place, and rivets won't fit ! )

ATTENTION : pendant le séchage, BRIDEZ VOTRE TAB SUR UNE TABLE BIEN PLATE, sinon il y a de fortes chances qu'il soit vrillé.
WARNING : during the drying, CLAMP YOUR TAB ON A FLAT TABLE, or it will certainly be twisted.
Laisser sécher 24 heures.
Allow to cure for 24 hrs

Riveter le bord de fuite avec des rivets pop repère 8 du TCI PL1302. Limer et écraser la boule du rivet pour l'esthétique .
Rivet the trailing edge with pop rivets ( 8 of TCIPL1302 ). File and smooth the rivet ball for appearance.

---

Retour sommaire.