Retour sommaire.

FIXATION EMPENNAGE HORIZONTAL SUR FUSELAGE
TAILPLANE TO FUSELAGE INSTALLATION
MONTAGE DES HÖHENRUDERS


Edition 09/99 [maj 31/08/06]
[MAJ 03/03/08]
---
---
Préinstallation de l'empennage sur l'avion (réglage de la position des ferrures de fixation)
Pre-installation of the elevator on the fin (setting the position of the hinge brackets) :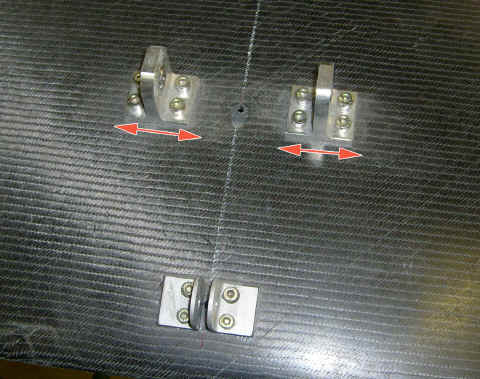 Assurez vous que les ferrures d'articulation peuvent bouger légèrement latéralement.
Make sure that both hinge brackets can move freely sideways (M5 screws not totally tightened)

Montez l'empennage sur le fuselage
Mount the tailplane onto the fin.

Assurez vous que les vis M6 sont correctement serrées à 10 Nm. Il est peut etre nécessaire d'ajouter des rondelles sous la tête pour éviter un serrage à fonds de filets dans l'écrou prisonnier.
Ensure the M6 screws are properly tightened to 10 Nm. The M6 screws may require washers to prevent them being thread bound.

Il ne devrait pas y avoir de jeu dans l'empennage. Si besoin vérifiez les vis de fixation et assurez vous qu'elles bloquent bien les rotules.
There should be no play in the tailplane. If there is check the mounting screws and ensure they are properly gripping the bearings.

Mesurez la distance des bouts de l'empennage à un point central derrière la verrière. Ajustez de sorte que l'empennage soit perpendiculaire à l'axe de l'avion.
Measure from the tip of tailplane on both sides to a central point at the back of the canopy. Adjust the tailplane so that it is perpendicular to the longitudinal axes of the aircraft.

Serrez les vis de fixations extérieures des ferrures.
Tighten bracket outer fixing screws.

Déposez l'empennage pour finir de serrer TOUTES les vis de fixation des ferrures, à 5.8 Nm.
Remove the tailplane to fully tighten the inside screws to 5.8 Nm.

Bloquez les vis avec du fil à freiner.
Wire-lock the bracket screws.
Installation définitive
Final installation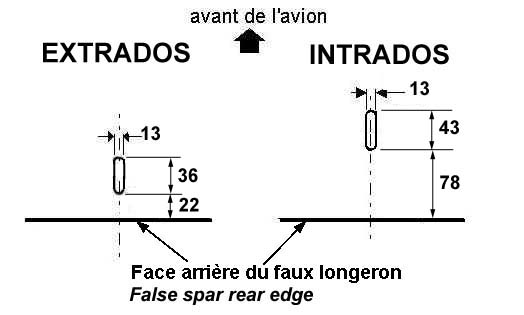 - Faire les passages de bielle sur les deux faces de l'empennage horizontal. (attention au sens)
- Cut rod path slots on both sides of the horizontal tail skin according to the above drawing.
- Durchgänge für Trimsteuerstange ausschnieden (achtung auf Richtung)
- Fixer temporairement une chape de bielle de tab à une extrémité du tube en carbone.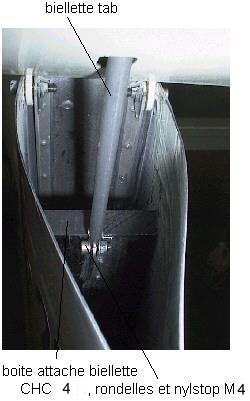 - Fixer provisoirement la biellette de tab sur la boite. (vis CHC 4x30, rondelles D4x8 et écrou M4)
- Fix the tab rod on its fitting box (30 mm long 4 mm diameter Hex head screws, 4x8 mm diameter washers, and M4 Nylstop nuts).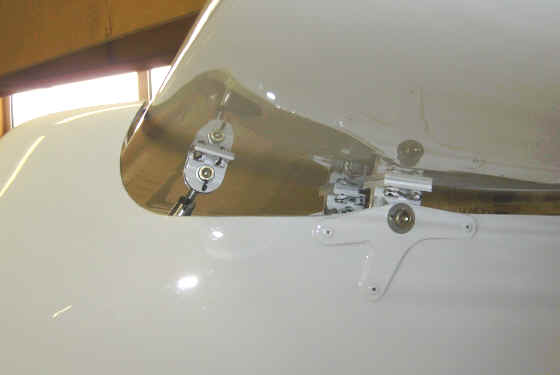 - Monter l'empennage horizontal sur le fuselage. (vis CHC 6x35 et rondelles D6x18)
- Assemble the horizontal tail to the fuselage (35 mm long 6 mm diameter Hex head screw, 6x18mm diameter washers).
- Höhenruder auf Rumpf montieren (CHC-Schrauben 6x35, U-Scheiben 6x18)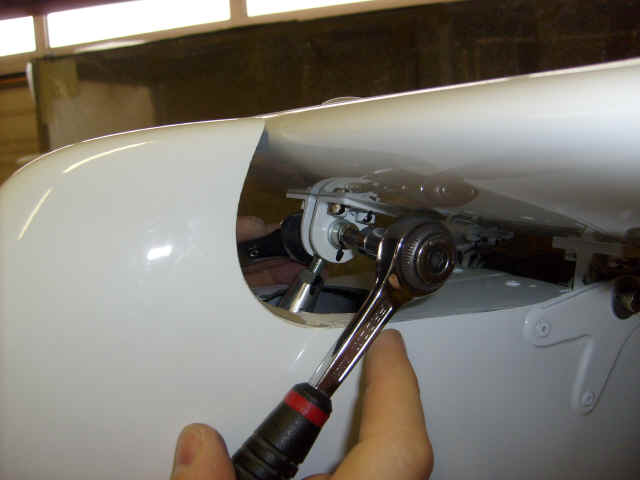 - Fixer la bielle de commande sur l'empennage. (vis CHC 6x35, rondelles D6x12 et Nylstop M6)
- Fix the rod to the horizontal tail (35 mm long 6 mm diameter Hex head screws, 6x12mm diameter washers, and M6 Nylstop nuts).
- Steuerstange auf Höhenruder montieren (CHC Schraube 6x35, U-Scheibe 6x12 + Stopmutter)

REGLAGE DE LA POSITION DU TAB Remarque : un simple niveau à bulle est suffisant pour faire ce réglage.
Note : a simple bubble level is enough to make the measures. - Placer un niveau à bulle sur le bord cabine (milieu du niveau à 750 mm de la CPF).
Caler la roue avant pour mettre le rebord cabine de niveau.
Poser une cale de 40mm sur le bord de fuite de l'empennage horizontal, poser le niveau par dessus.
Trimmer la profondeur pour mettre le niveau à zéro (bulle centrée). - Place a bubble level on the cockpit edge (middle of the level at 750 mm from firewall).
Put chocks under the front wheel so that the cockpit edge is horizontal.
Place a 40 mm spacer on the tailplna trailing edge, place the level on both spacer and tailplane
Trim the tailplane so that the level is horizontal

- En maintenant les réglages précédents, déterminer la longueur du tube carbone de la biellette de commande du tab de sorte que bord de fuite du tab soit 5 mm (+/- 1) en dessous du bord de fuite de l'empennage.
- Maintaining the previous settings, find the rod length so that the tab trailing edge is 5 mm (+/- 0.5) below the tailplane trailing edge.



- La longueur de la biellette étant determinée, demonter l'ensemble.
- Disassemble when you have found the correct length

.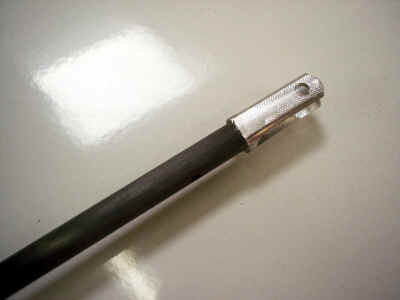 - Coller les embouts dans le tube carbone à la colle époxy A-175/400 :
- poncer les embouts, dégraisser,
- poncer légèrement l'intérieur du tube carbone, bien dépoussièrer, dégraisser,
- encoller l'intérieur du tube (avec une queue de rivet par exemple),
- encoller l'embout,
- enfiler l'embout lentement en tournant pour bien répartir la colle,
- maintenir en place pendant le séchage avec du scotch.
ALIGNEZ BIEN LES EMBOUTS
- Glue the rod ends into the carbon tube, with A-175/400 Epoxy glue :
- abrade and degrease the rod ends
- slightly abrade inside the carbon tube, carefully remove dust, degrease,
- spread glue inside the tube (with a rivet tail for example)
- spread glue on the rod ends
- insert the rod end slowly, with a screwing movement, to equally spread the glue,
- hold in place with tape.
CORRECTLY ALIGN THE ROD ENDS.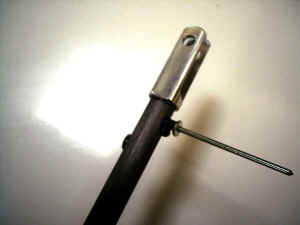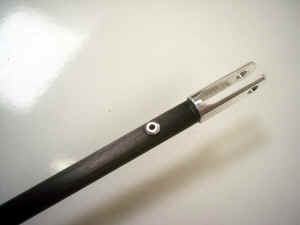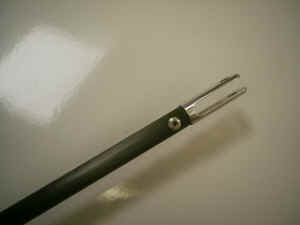 - Après séchage de la colle : riveter ( 2 rivets 2.4x6 TP : un devant, un derrière, légèrement décalés). Pensez à enduire les rivets de colle.
- Once the glue has dryed, rivet ( 2 round head pop rivets 2.4x6 , one in front, one behind, slightly shifted). Remind to put a little bit of glue on the rivets.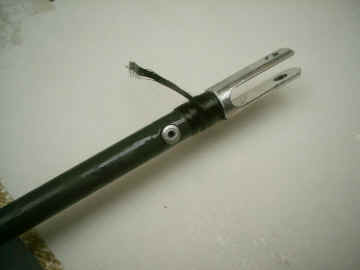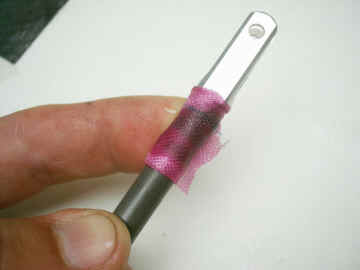 - Pour éviter que le tube se fende : ligaturer les deux extrémités avec un fil de carbone + résine époxy (faire une dizaine de tours). Maintenir pendant le séchage avec 2 tours de délaminage + du scotch.
- to avoid that the tube splits : wrap the tips with a mesh of carbon fibre + epoxy resin (make about 10 turns). Hold with one or two turns of peel ply + tape.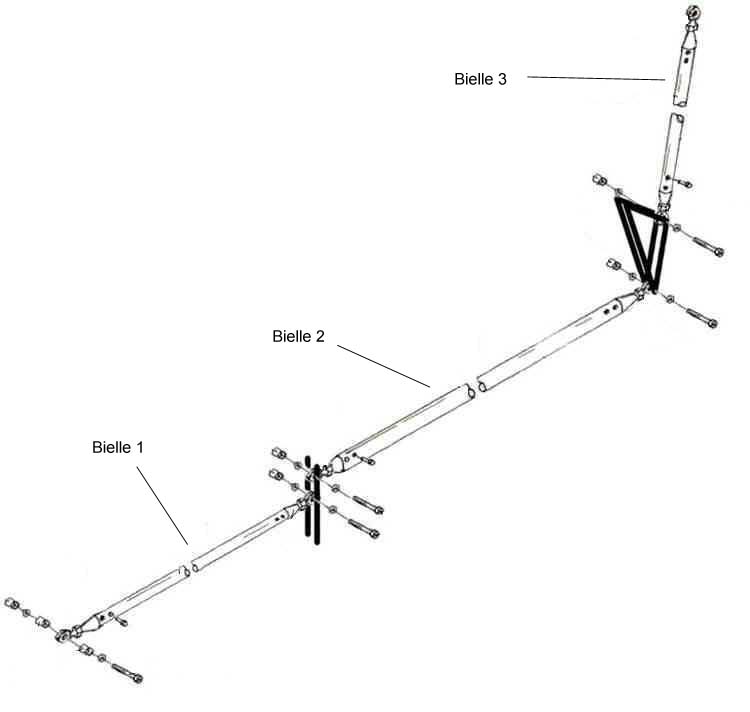 - Fixer la biellette de tab sur le tab. (vis CHC 4x30, rondelles D4x8 et Nylstop M4) .
- Secure the tab rod to the tab control surface with 30 mm long 4 mm diameter Hex head screws, 4x10mm diameter washers, and M4 Nylstop nuts).
- Vérifier en manoeuvrant aux débattements maximum que la biellette ne frotte pas dans les passages de l'empennage.
- Check that when moving tailplane from one mechanical stop to the other the tab rod does not touch the horizontal tail surface.
- Sich vergewissern, dass die Trimsteuerstange beim Bewegen des Höhenruders von Anschlag zu Anschlag nicht an Durchgängen reibt.
COUPLES DE SERRAGE / TIGHTENING TORQUES.
Nous utilisons exclusivement de la visserie de classe 8.8 ou supérieure, avec un traitement anti corrosion "BZD". La classe de qualité est indiquée sur les têtes de vis. Attention, la résistance des vis peut être altérée par le traitement anti corrosion si il n'est pas adapté. N'utilisez pas de visserie de provenance douteuse. Il en va de votre sécurité.
We only use metric size, class 8.8 or better screws, with a "BZD" anti corrosion shield. The screw quality class is indicated on the screw head. Note : the resistance can we weakened by some anti corrosion treatments if they are not adapted. DO NOT USE SCREWS FROM SUSPECT SUPPLIERS, FOR SAFETY REASONS.
Ces couples de serrage, en décaNewton-mètres (daN.m, ~= m.kg), peuvent être utilisés pour tous les assemblages boulonnés, sauf précision contraire spécifiquement indiquée dans les gammes de montage ou dans les manuels constructeurs (moteur, hélice, etc...). Ils correspondent aux 3/4 de la limite élastique, pour de la visserie classe 8.8. (Source : guide du dessinateur industriel).
Those tightening torques , in decaNewton-metre (daN.m . 1 daN.m = 88.51 in.lbs = 7.39 ft.lbs)
| | | | |
| --- | --- | --- | --- |
| Diamètre | M4 | M5 | M6 |
| Couple (daN.m) | 0.30 | 0.58 | 1.0 |
---

Retour sommaire.