Retour sommaire.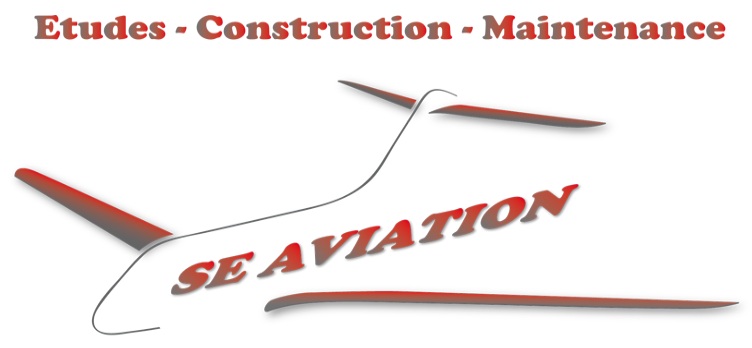 INSTALLATION DES VOLETS SUR LES AILES VLA
INSTRUCTIONS FOR ADJUSTING FLAPS TO VLA WINGS
Edition 09/99
---
---
Collage des potences de volets :
Flap attach fitting bonding :
- Vérifiez que vos boites de potences sont alignées, avec une grande règle de maçon.
- Check all flap attach fitting supports are properly aligned.
- Dans le cas contraire, poncez les boites de potences pour les aligner.
- If it is not the case, abrade flap attach fitting supports.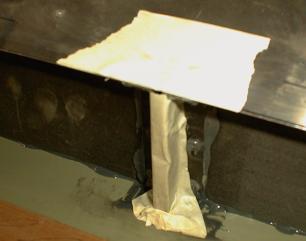 - Protection contre les coulures : mettez du scotch autour des équerres de potences des volets, sur le revêtement d'aile en découpant au niveau de l'encoche, et au bord d'attaque des volets en face des potences.
- Place adhesive tape around the attach fitting brackets , on the intrados skin (cut the slot) , and on the flap leading edge.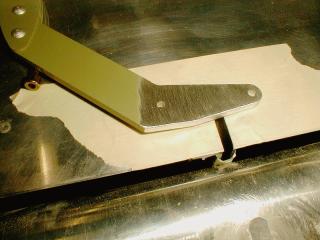 - Poncez les potences de volets au niveau du collage.
- Abrade the bonding surface on the flap attach fittings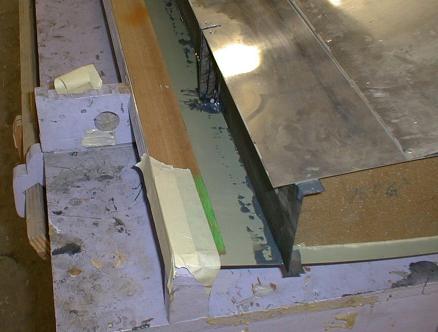 - Installez les ailes dans l'outil de montage des volets.
- Place the wing onto the flap installation jig.

- Scotchez sur le bord de fuite la grande cale en bois de 1 mm d'épaisseur.
- Tape a 1mm thick wooden spacer on the extrados trailing edge skin.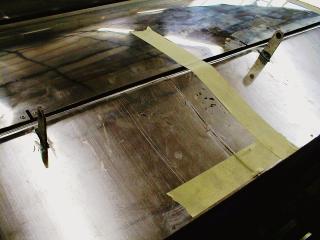 - Scotchez le bord de fuite des volets pour éviter qu'ils ne « s'ouvrent ».
- Tape both flap trailing edge together to prevent them from spacing.

- Posez les volets dans l'outil, les articulations bien en face des logements des potences, et le bord d'attaque en butée contre les boites carbone.
- Put flaps in jig with articulation points in front of attach fitting wing slots and leading edge against carbon fiber flap attach fitting supports.
- Scotchez-les en place (voir photo).
- Tape and hold them.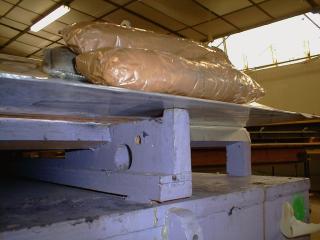 - Plaquez les volets contre les butées du gabarit avec des sacs de plomb.
- Hold flaps to the jig with lead bags.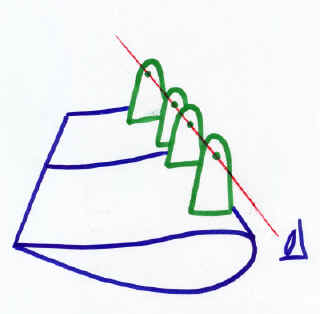 - Vérifiez l'alignement des axes des potences des volets en regardant dans l'alignement : on doit pouvoir voir au travers des 4 potences.
- Check that the four flap spherical bearings are aligned.
- Glissez les potences dans leurs logements et mettez les axes (vis diamètre 4mm). On ne doit pas forcer, poncez éventuellement l'avant des potences pour qu'elles passent librement.
- Slide the attach fittings in their support and fix it with 4 mm diameter screws. You must not force to do so, if necessary, abrade the front edge of flap supports.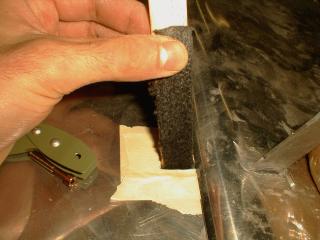 - Poncez, et dégraissez avec un bout de chiffon imbibé autour d'un bâtonnet. Séchez bien l'acétone.
- Abrde and degrease with a piece of cloth around a stick. Dry carefully the Aceton.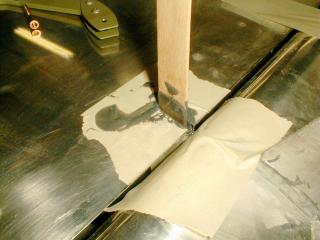 - Bourrez abondamment de colle époxy A140.
- Apply a lot of A140 Epoxy glue.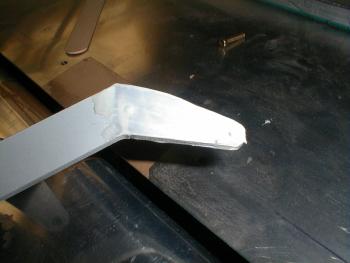 - Encollez légèrement les potences (environ 0.5 mm d'épaisseur, pour simplement garantir la présence de la colle sur toute la surface).
- Slightly apply glue to the attach fittings (approximately 0.5mm thick layer to make sure there will be glue on the entire surface).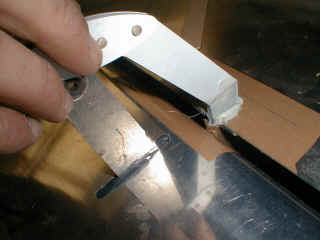 - Mettez les axes.
- Put the axis on.
- Vérifiez que votre volet est bien à sa place.
- Check your flap is in place.

- Laissez sécher.
- Let it dry.
Démontez:
Disassemble: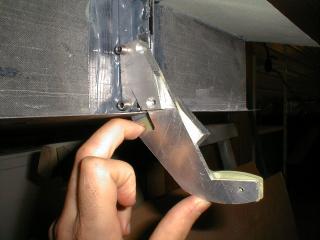 - Avec l'outil de perçage, percez D4 les trous puis mettre les vis de sécurité des potences de volets. (CHC M4-25)
- With the drilling jig, drill 4 mm diameter holes and put 25 mm long 4 mm diametersecurity screws.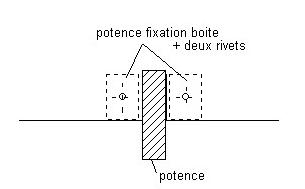 - Rivetez les boites de potences : rivets D3.2x8 TP
- Rivet flap supports with 8 mm long 3 mm diameter flat head rivets.
---

Retour sommaire.