Retour sommaire.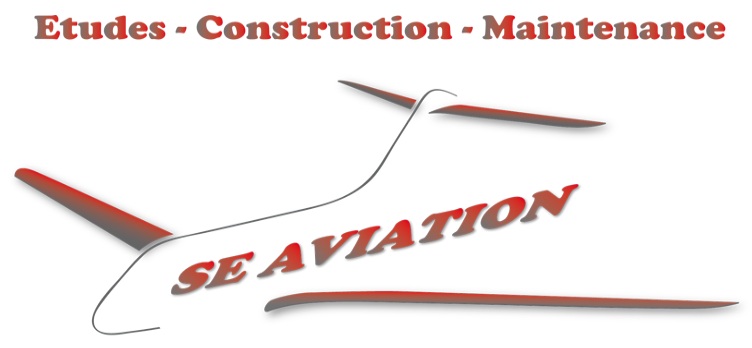 ______
VOILURE / WINGS
MCR Club
---
---
Installation des potences / Jib installation
1. Potences de volets / flap jibs
1-1 Préparation de l'aile / wing preparation: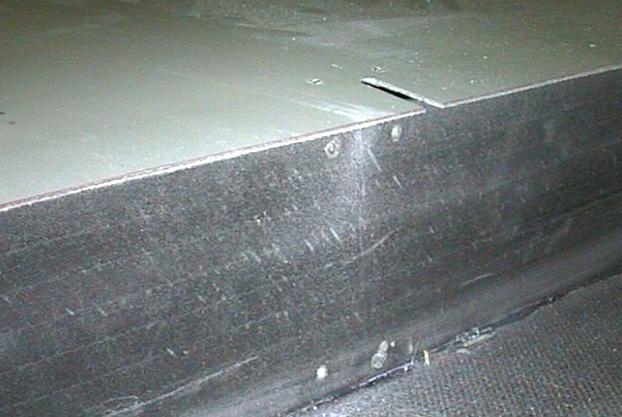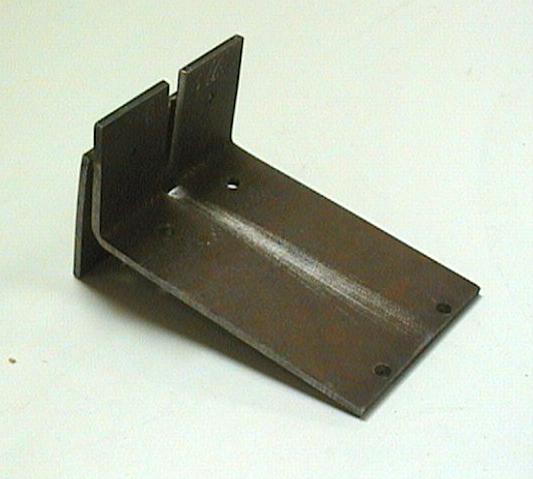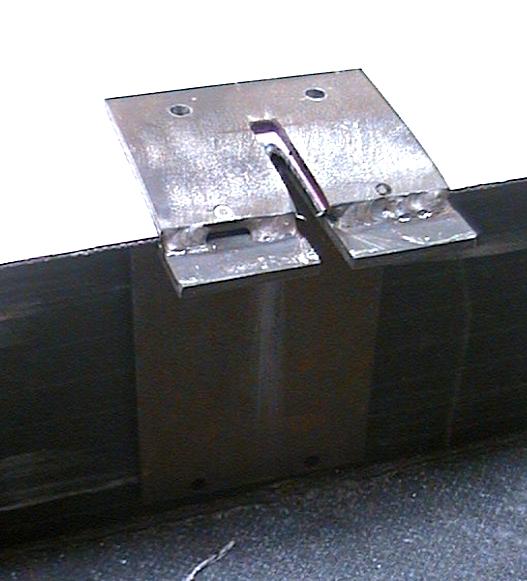 Tracer une encoche à l'aide du gabarit au niveau de chaque emplacement de potence.
- maintenir le gabarit sur le faux longeron avec des vis 4x20.
- Découper cette encoche en faisant très attention de ne pas abimer le faux longeron.
Draw a slit shape, using the appropriate template, at each jib location.
- hold the template on the false spar with 4*20 screws.
- Cut the slit out with great care, in order not to damage the false spar.
Percer 2 trous D 4 à l'intados au niveau des potences à l'aide du même outil. Pour ne pas abîmer les filetages les écrous prisonniers (ce serait irrémédiable), mettez une entretoise sur votre foret pour faire butée :
Drill 2 4 mm diameter holes on the lower surface at the jib positions with the same template. In order not to damage the captive nuts threads , put a spacer around your drill to act as an end-stop.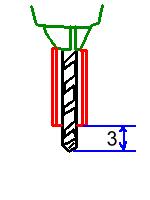 Remarque: lorsque l'on ne possède pas le gabarit:
- effectuer une encoche de 6 mm de large sur le revêtement intrados de l'aile:
* jusqu'au faux longeron (attention de ne pas entailler le faux longeron : finir tout doucement à la lime).
* perpendiculairement à ce dernier.
* centrée entre les trous existant sur ce faux longeron.
- les trous D 4 à effectuer sur intrados afin d'atteindre les embases de fixation sont situés 8,5 mm avant le faux longeron et écartés de 30 mm.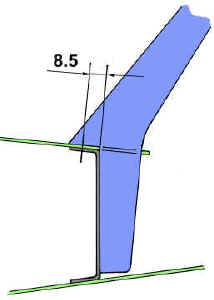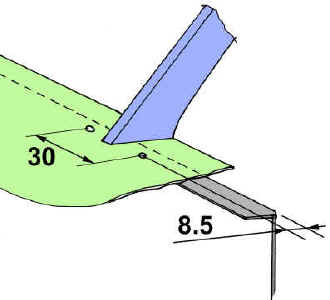 If you do not have the template :
- make a 6 mm wide slit in the wing lower surface skin :
*up to the false spar (be careful not to cut into the false spar : finish using a file).
*perpendicular to it.
*centred between the existing holes on this false spar.
- the 4 mm holes in the intrados must be 8.5 mm in front of the false spar corner, and equally separatde by 30 mm.
1-2 Montage des potences: / Jibs mounting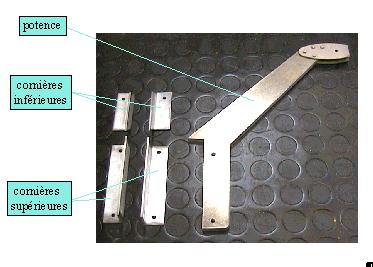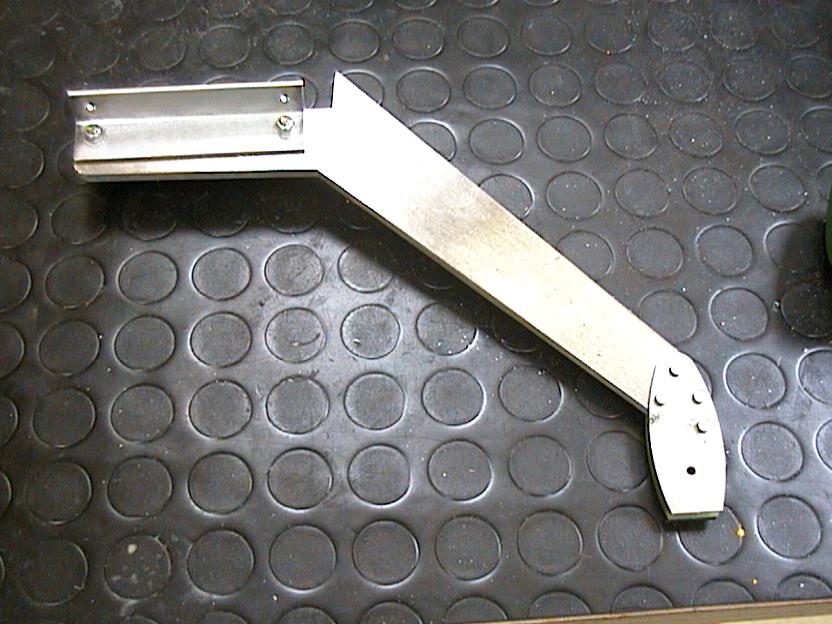 - Assembler les cornières supérieures sur chaque potence (attention au sens):
- Assemble the upper angle bars onto each jib (check proper oritentation) :
si les cornières ne prolongent pas parfaitement les potences, il est possible de contrepercer les cornières D 4,5 mm.
if the angle bars do not perfectly match the jibs, they may be back-drilled (4.5 mm diameter)
- Monter chaque l'ensemble sur le faux longeron (4 vis 4´ 20, graissées au préalable afin de faciliter le démontage éventuel).
- Install each assembly onto the false spar ( 4 4'20 screws, previously waxed to ease their removal).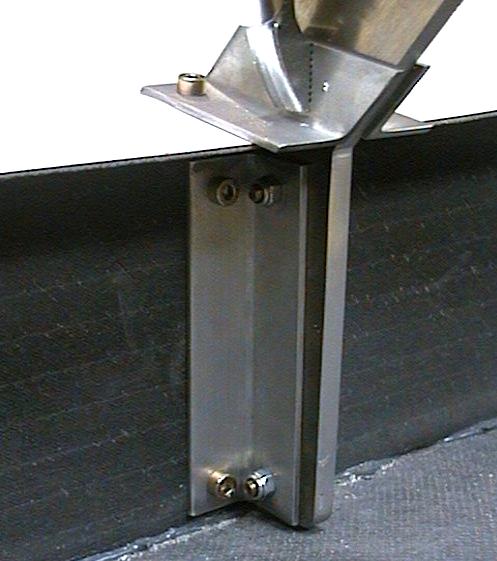 - Monter les cornières inférieure sur l'intrados (2 vis CHC 4x20 par potence, graissées au préalable).
- Install the lower angle bars onto the lower surface (2 waxed 4*20 hexagonal socket head screws).
- Maintenir fermement ces cornières contre la potence (pinces étau).
- Hold these angle bars tightly against the jib (vise-grip wrench).
- Percer en même temps les cornières inférieures et la potence (2 trous D 4 au niveau du pointage des cornières).
- Simultaneously drill both lower angle bars and jib (2 4 mm holes where the bars have been pricked)
- Les fixer ensemble à l'aide de 2 vis 4´ 20 et 2 Nylstop M4.
- Hold them together with 2 4´ 20 screws and 2 Nylstop 4 mm nuts.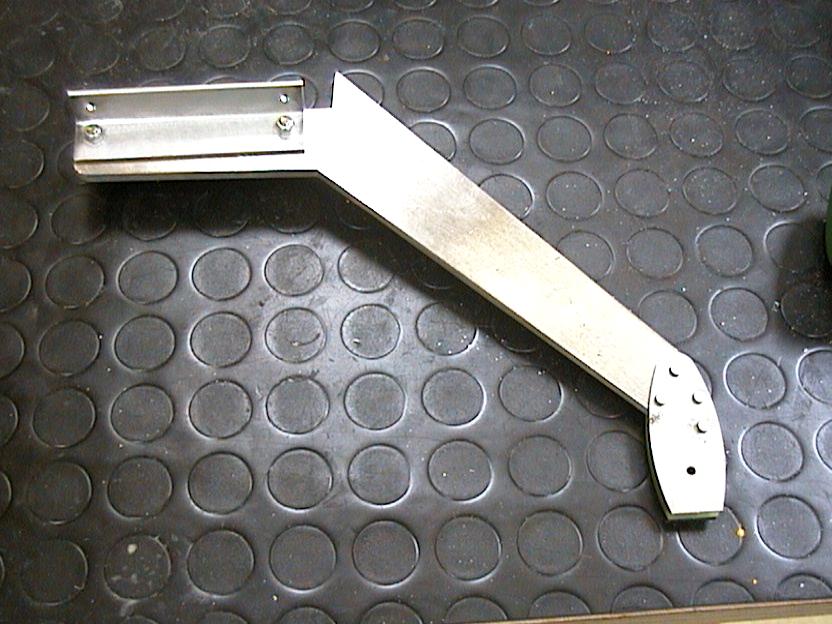 - Numéroter toutes les pièces et leur emplacement.
- Number all the parts and their location
- Démonter chaque ensemble cornières + potence.
- Disassemble each assembly (angle bars + jibs)
- On peut à ce moment là profiler les potences de façon à améliorer leur aérodynamisme (bord d'attaque uniquement, le bord de fuite se faisant sur l'attache de volet).
- You may at this point streamline (abrade and polish)the jibs to enhance their aerodynamic efficiency (leading edge only; the flap attach fitting being the trailing edge).
- Peindre (chromate de zinc) les parties ensembles (protection contre l'oxydation).
- Zinc-chromate paint the parts together (protection against oxydization).
- Remonter chaque ensemble sur l'aile.
- Install each assembly back onto the wing.
2. Potences d'ailerons / Aileron jib.
Découpez l'encoche entre les équerres de potences d'aileron, en prenant garde à ne surtout pas entamer le faux longeron. (faites d'abord une découpe approximative puis ajustez avec une petite lime).
Cut the slit out, between the aileron jib angle plates, taking care not to cut into the false spar. (first make an approximate cut-out, then adjust with a small file).
Glissez les potences d'aileron entre les équerres, poncez un peu si nécessaire pour laisser un petit jeu pour la colle.
Insert the aileron jibs between the angle plates, abrade slightly if required to leave a small gap for the glue
Protégez le revêtement et l'outil en vue du collage (scotch).
Protect both skin and jig prior to bonding with adhesive tape.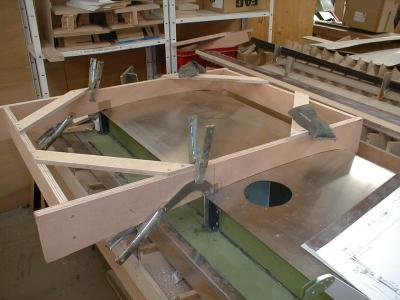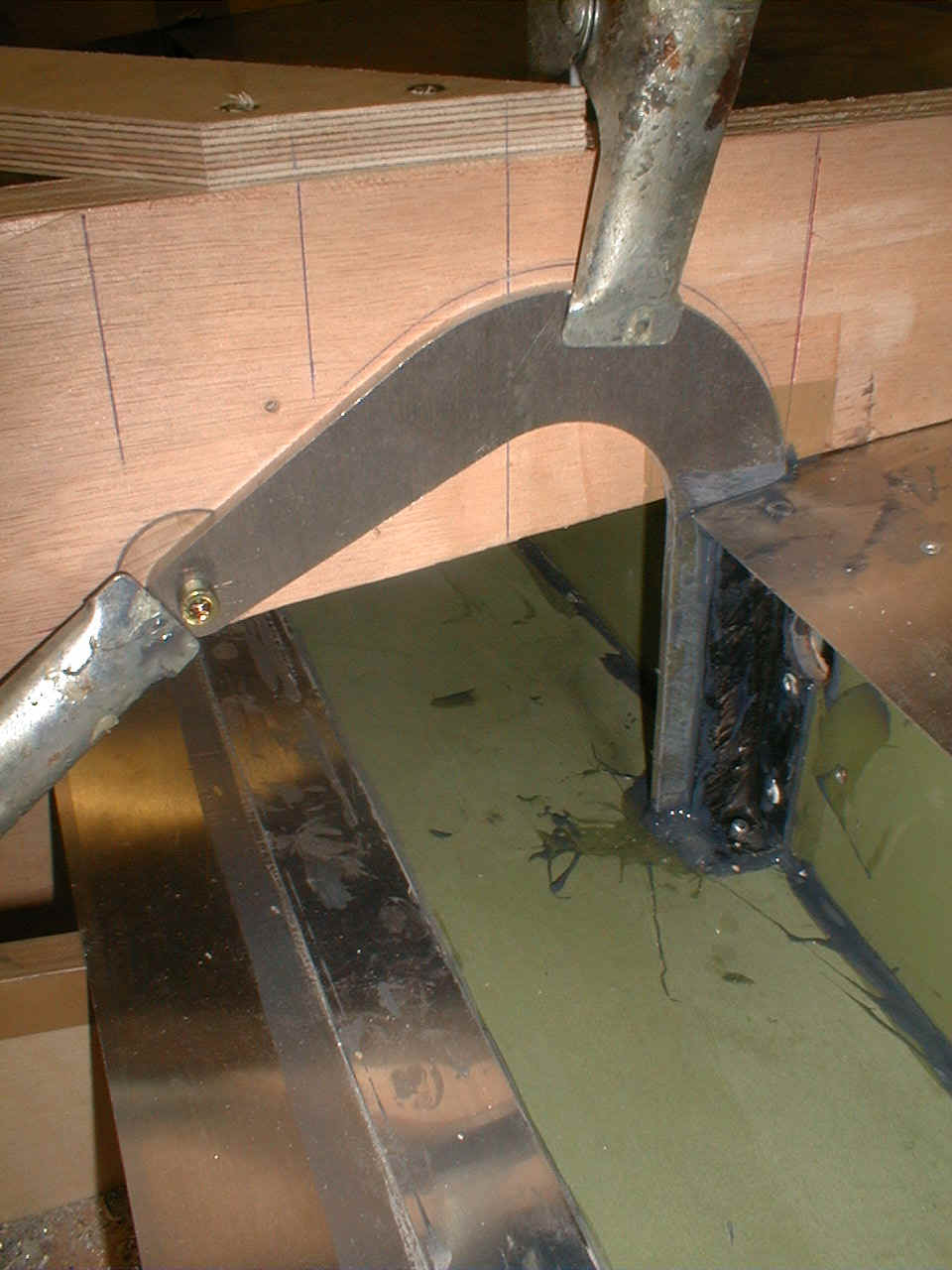 Installez le gabarit de positionnement des axes sur l'aile, maintenez-le bien en butée contre le bord d'attaque.
Faites un premier montage à blanc pour vérifier que les potences rentrent en place sans forcer.
Place the wing axes positioning template, hold it against the leading-egde end stops.
First do a mock assembly to check that the jibs can be easily inserted.
Poncez et dégraissez les potences et entre les équerres en carbone.
Collez les potences à l'époxy XE-2162 (double encollage abondant), brochez les potences sur l'outil, et maintenez en position avec des pinces.
IMPORTANT : Il faut que les potences soient bien en butée contre le faux longeron.
Abrade and degrease the jibs and inbetween the carbon fiber angle plates.
Bond thoroughly the jibs with epoxy XE-2162 (double bonding), broach the jibs onto the jig, and hold them in position with nippers.
CAUTION : jibs must be held against the false spar.
Au cas où vous ne disposez pas de cet outil,

La solution est très simple car l'extrados du profil est une ligne droite dans sa partie arrière.
La position des potences est :
- bien en butée contre le faux longeron (position avant-arrière)
- de sorte que l'extrados de l'aileron et de l'aile soient alignés (position haut-bas).
Il faut donc poser une règle sur l'extrados de l'aileron et sur le bord de fuite du revêtement pour bien les aligner.
In case you do not have this jig,
The solution is pretty easy to do, thus the upper surface of the airfoil is straight in its rear part.
The brackets position is :
- well held against the false spar (forwards-backwards position)
- so that the upper surfaces of the aileron and wing are correctly aligned. (up-down position).
So you have to place a rule on the upper surface of the aleron and on the trailing edge of the wing, to check they are correctly aligned.
Après séchage, utilisez le canon de perçage pour faire les trous D 4, et mettez les vis (CHC 4x25, rondelles 4x8 et écrou nylstop).
After the asselbly has dried out, use the drill guide to make 4 mm holes and place 4*25 hexagonal socket head screws, 4*8 washers and nylstop nuts).
Plan de l'outil de percage / Drill guide pattern :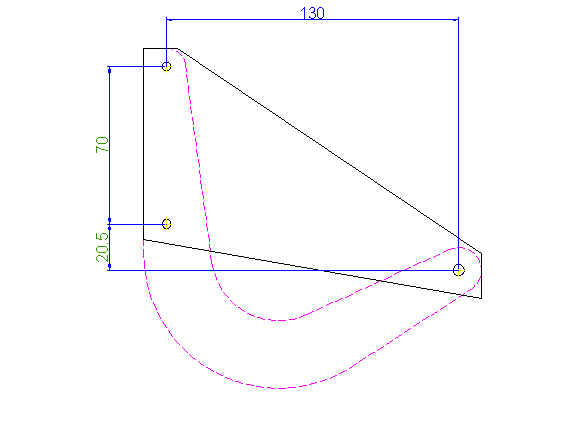 ---

Retour sommaire.