Retour sommaire.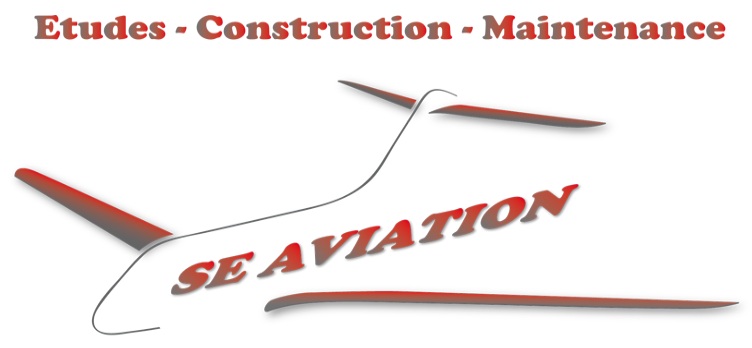 ______
VOILURE / WINGS
MCR Club
---
---
Installation des toits de fuite / trailing edge closure installation
1. détourage de l'extrados au niveau de l'aileron / upper surface contouring in the aileron region
Le débord de tôle à l'extrados au niveau de l'aileron est de 135mm.
The upper surface skin at the aileron spanwise station protrudes by 135 mm.
Pour la découpe :
repérez le coin de la découpe : à 135 mm du faux longeron et à 30 mm du milieu de la potence d'aileron.
percez l'angle avec un foret de 4 mm, cela évite d'avoir un angle vif et empêche la tôle de se fissurer dans le coin.
Découpez la tôle.
Cutting instructions :
locate where to cut : 135 mm from the false spar and 30 mm from the middle of the aileron jib.
drill the corner with a 4 mm drill, thus avoiding a sharp corner and preventing crack initiation and propagation.
you may now proceed with the skin cutting.
2. Toit de fuite des volets (PVC) / PVC flap trailing edge closure. Attention avant de coller les toits de fuite il faut :
- monter les renvois de commande d'ailerons dans l'aile (après on n'a plus accès aux vis de fixation des support) (voir gamme OAINO02)
- monter la sonde de pression totale ("Pitot") sur la deuxième potence de volet de l'aile gauche (voir gamme "finitions")
- passer le cablage electrique (feux de nav, flash, trim...) ou un fil de fer permettant de passer les fils plus tard.

Attention : before you glue the trailing edge closures, you must :
- Install the aileron bellcranck in the wing (afterwards there will be no acces to the support fixation screws) (see manual OAINO02)
- Install the total pressure port ("Pitot" probe) on the left wing 2nd flap bracket (see manual "finishings")
- Pass the electric wires (for flash lights, position lights, trim...), or a steel wire with which you'll be able to pull the electric wires later.

Coupez les toits de fuite pour laisser libre l'accès aux fixations des supports de renvois d'ailerons.
Taillez des encoches dans l'avant des toits de fuite (biseau le moins penté), pour faire passer les potences de volets.
Cut-out the trailing edge closures to make an access to the attach fittings of the aileron bellcrank supporting structure.
Cut slits in the front part of the trailing edge closure (shallower slope), to make a path for the flap jibs).

Installez les volets sur les ailes.
Scotchez une cale en bois de 2 mm d'épaisseur et de 20 mm de large sous le revetement d'extrados, sur toute la longueur des volets.
Fit the flaps onto the wings
Bond a 2 mm thick, 20 mm wide wooden spacer with adhesive tape under the upper surface skin, all along the flap span.


Installez les toits de fuite en position (les usinages en biseau permettent de les positionner sans erreur).
Rabattez les volets en amenant le bord de fuite du bec au niveau du bord du revêtement, maintenez-les ensemble avec du scotch et des pinces.
Mettez une cale en bois entre le bec des volets et le toit de fuite. Cette cale retiendra le toit de fuite pendant le collage.
Place the trailing edge closures into position (the tapered machined shape should ensure a proper positioning). Hold them together with adhesive tape and nippers
Place a wooden spacer between the flap slat and the trailing edge closure. It will keep the closure in position during bonding.

Défaites le montage à blanc, dégraissez les surfaces à encoller.
Collez les toits de fuite à la colle epoxy A-175/400.
Remettez tout en place comme lors du montage à blanc, Assurez-vous que rien ne bougera pendant le séchage .
Disassemble th mock assembly, degrease the surfaces to be bonded.
Bond the trailing edge closures with A175/400 epoxy glue
Put everything back together as in the mock assembly case. Ensure that everything will be held in place while drying out.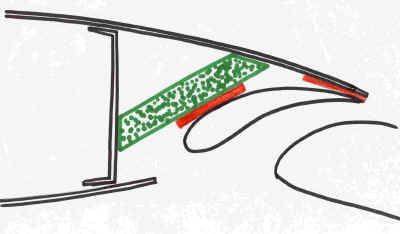 Il restera à coller le bout de toit de fuite manquant après l'installation des supports de renvoi d'ailerons.
You will then have to bond the missing part of the trailing edge closure, once you'll have the aileron bellcrank supporting structures installed.
3. Toit de fuite ailerons (composite) / aileron trailing edge closure (composite-made).
Découper la partie plane du toit de fuite (intrados) à 25 mm de large.
Pratiquer des encoches dans la pièce au niveau des potences d'ailerons, couper à la longueur de l'aileron (810 mm).
Cut-out the flat part of the trailing edge closure (lower surface), 25 mm wide.
Cut slits in the item, where the aileron jibs are fitted (cut over 810 mm, i.e. aileron dimension).
Préparer 2 tasseaux et des serre-joints.
Poncer et dégraisser la tôle au niveau du collage.
Retirer le tissu de délaminage sur les 2 faces du toit de fuite (attention, c'est fragile).
Have 2 cleats and a few clamps ready.
Abrade and degrease the skin where it's being bonded.
Remove the delamination sheet on both sides of the trailing edge closure (Caution : fragile !)
Collez à la colle époxy A-175/400 la partie intrados et maintenez en position avec du scotch tendu entre la pièce et le revêtement.
Bond (A-175/400 epoxy) the lower surface part and hold in position with adhesive tape stretched between the item and the skin.
Encoller l'extrados du toit de fuite . Mettre en pression avec le tasseau et les serre-joints en évitant de déformer la pièce.
Bond the upper surface of the trailing edge closure. Apply pressure using the cleats, clamps, and taking great care not to deform the item.
---

Retour sommaire.