Retour sommaire.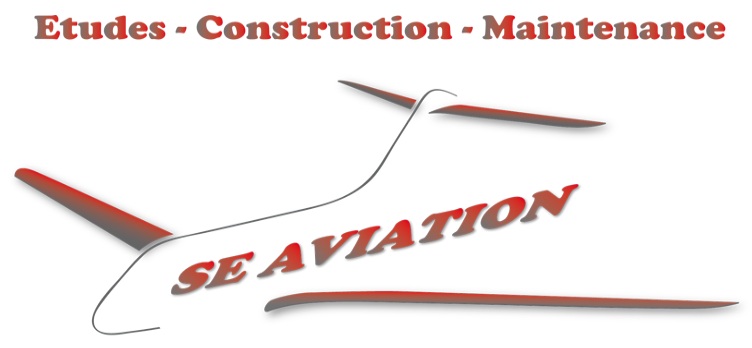 ______
VOILURE / WINGS
MCR Club
---
---
Collage du squelette / skeleton bonding
défaites le montage à blanc.
undo the mock assembly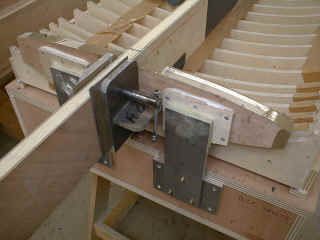 Brochez le longeron sur l'outil et glissez-le au bout dans la fourche en bois.
Broach the spar onto the jig and slide it to the end of the wooden fork.
Dépoussiérez et dégraissez soigneusement toutes les parties à encoller maximum 1 heure avant collage, et évitez de toucher le pièces à mains nues.
Vacuum-clean, degrease thoroughly all parts to be bonded an hour maximum before bonding, and avoid touching it with your bare hands.
Rappel : par commodité l'aile est fabriquée à l'envers : l'extrados est en dessous !
NB : for ease of construction, the wing is asembled upside-down : the upper surface is underneath.
- Coller les cornières d'extrados (les plus courtes) sur le longeron.
- Glue the extrados L-bars (the shorter ones) to the spar
- Untere Winkel mit Holm verkleben.
- Coller les nervures carbone d'emplanture.
- Glue the wing root carbon fiber ribs.
- Carbonrippen verkleben.
- Coller les cornières d'intrados (les plus longues) sur le longeron. (maintenir avec des pinces)
- Glue the intrados L-bars (the longer ones) to the spar (secure with pliers).
- Obere Rippen mit Holm verkleben (mittels Klammern befestigen)
Frottez le faux longeron au scotch-brite, dépoussiérez et dégraissez tout à l'acétone. Enfoncez de la pate à modeler dans les écrous prisonniers pour ne pas que la colle les bouche.
Rub the false spar with a scotch-brite, vacuum clean and degrease everything with acetone.Fill the captive nuts with clay to prevent the glue from obstructing them.

Collez toutes les queues de nervures contre le longeron à la colle XE-2162. Respectez bien la numérotation des queues avec passage de bielle.
Bond all rib tails against the spar with XE-2162 epoxy glue. Make sure you follow the order of the tails bound to have a rod going through.
Encollez l'arrière des queues de nervures PVC à la colle XE-2162.
Encollez l'arrière de la nervure d'emplanture à la colle époxy XE-2162.
Appy XE-2162 glue to the rear of the PVC foam rib tails.
Apply XE-2162 glue to the rear of the root rib.
Plaquez le faux longeron sur les nervures. Remettez-le exactement à la même position que lors du perçage.
Posez l'outil de percage contre le faux longeron appuyez le tout sur les nervures à l'aide des cales en bois qui se placent sur les nervures de l'outil.
Hold the false spar against the ribs. Put it exactly back into place as for drilling operations.
Place the drilling jig against the false spar and hold everything against the ribs with wooden spacers placed on the jig ribs.
Collez à la colle XE-2162 les becs de nervures PVC sur le longeron.
Bond PVC foam nose ribs and the spar together with XE-2162 glue.
Au niveau du longeronnet, encollez l'avant des nervures PVC à la XE-2162, et la nervure d'emplanture.
Plaquez le longeronnet sur les nervures, coincez une cale en bois devant pour le plaquer contre les nervures.
Collez le bec de renfort de la nervure d'emplanture et maintenez le en place pendant le collage avec une pince. Assurez-vous que les profils se prolongent correctement.
At the small "dummy" spar station, apply glue to the front part of the PVC foam rib and the root rib. with XE-2162 epoxy glue.
Hold the small front spar against the ribs, insert a wooden spacer at the front to hold it even tighter.
Bond the nose reinforcement of the root rib and hold it in place, while bonding, with a nipper. Ensure the sections follow each other smoothly.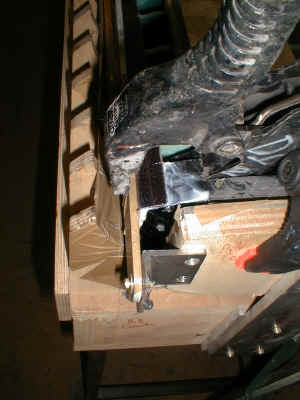 Vissez la ferrure d'attache voilure sur l'outil, et plaquez-la contre le longeronnet avant à l'aide de pinces. Cela maintient le longeronnet en position av / ar pendant le collage.
Bolt the wing attach fitting onto the jig, and hold it against the front front small spar with nippers. This holds it in forward/rear position during bonding
Posez une règle en bois sur les becs de nervures et placez-y des sacs de plomb pour tout maintenir en place.
Place a wooden ruler onto the rib noses and apply pressure with lead bags to hold everything in place.
---

Retour sommaire.