Retour sommaire.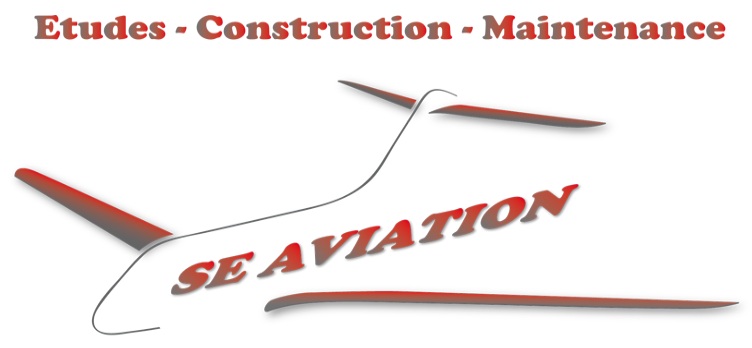 ______
VOILURE / Wings
MCR Club
---
---
Collage des équerres de potences d'ailerons / Aileron jib angle plates bonding
Préparez le gabarit de positionnement des équerres de potences d'ailerons pour le collage : mettez du scotch d'emballage sur les ferrures et cirez-les pour leur permettre de se démouler.
Have the angle plates positioning template ready for bonding : put adhesive tape onto the fittings and wax them to ensure an easy de-moulding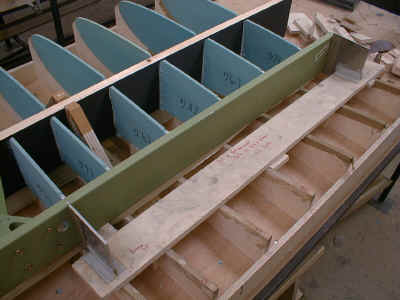 Mettez le gabarit de positionnement à sa place en le calant entre les nervures du berceau (respectez les indications sur le gabarit).
Place positioning template into position, held between the ribs of the craddle (in accordance with the indications written on the template).
Poncez les équerres des potences d'ailerons et passez le faux longeron au ScotchBrite aux endroits à encoller. Dépoussiérez et dégraissez.
Abrade the aileron jib angle plates and the false spar ( with a ScotchBrite), where they must be bonded. Vacuum-clean and degrease.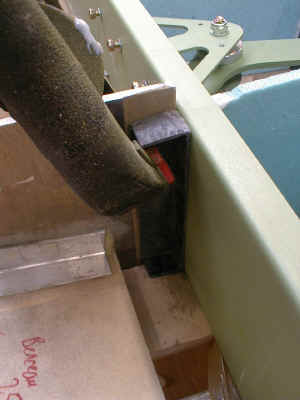 Collez les équerres sur le faux longeron avec de la colle époxy XE-2162. Maintenez en place avec des pinces ou des serre-joint avec un serrage modéré. Faites bien affleurer les faces supérieures et inférieures pour avoir ensuite un bon collage du revêtement.
Bond the angle plates onto the false spar with XE-2162. Hold them in place with nippers or clamps (moderately). Ensure upper and lower surfaces are level with the edges of the spar to ensure proper skin bonding.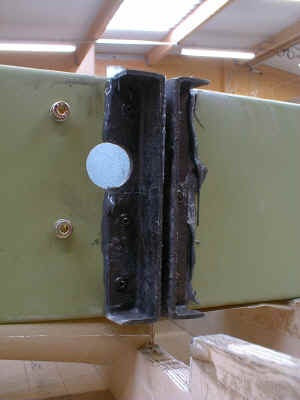 Une fois sec, posez 3 rivets pop 3.2x8 TP sur chaque équerre de potence d'aileron.
Once dry, use 3 3.2*8 TP "pop" rivets on each aileron jib angle plate.
Taillez dans l'équerre pour déboucher le passage de la biellette.
Cut into the angle plate to make a way through for the small rod.
---

Retour sommaire.