Retour Index général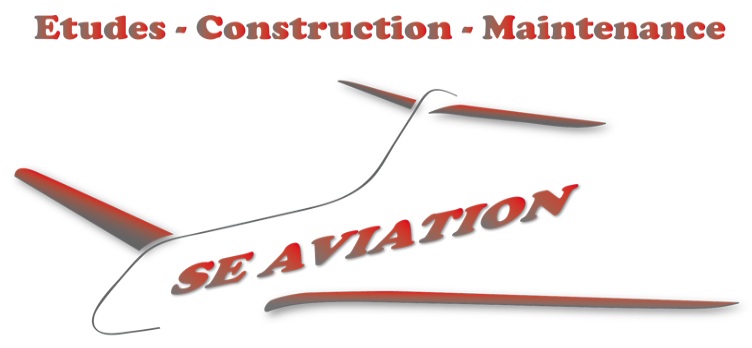 ---
RECOMMANDATIONS TECHNIQUES POUR LA FABRICATION DU MCR
TECHNICAL RECOMMENDATIONS TO BUILD THE MCR AIRCRAFT
---
Félicitations, vous venez d'acquérir un avion en kit produit par SE-AVIATION. Nous espérons qu'il vous donnera autant de plaisir à le construire qu'à le piloter.
Avant d'entamer la construction, permettez nous de vous faire quelques recommandations.

Le manuel de montage du MCR est divisé en plusieurs tomes, regroupant les étapes de la fabrication de votre avion dans un ordre logique.

Nous vous demandons de suivre scrupuleusement les indications contenues dans ces manuels, pour des raisons de sécurité. Pour ce faire, nous conseillons vivement de lire entièrement chaque chapitre avant de commencer l'assemblage concerné. Cela vous permettra aussi de comprendre les objectifs à atteindre, et d'avoir le recul nécessaire pour éviter les erreurs. Consultez le TCI ("Tableaux des Composants Illustrés") en parallèle, afin de contrôler que vous avez bien toutes les pièces nécessaires à l'assemblage.
La visite de contrôle du MCR-01 (tome 3, ref MEXNO05) est à remplir avant le premier vol, et à nous communiquer.

D'autre part, sachez qu'aucune modification de l'avion n'est autorisée par SE-AVIATION.
---
Congratulations, you just bought a kit form Aircraft made by SE-AVIATION. We wish you pleasure to fly this Aircraft but also to build it.
Before you start building your kit, let us give you some recommandations
Mounting instruction manuals are divided into several volumes which describe logical sequence of building steps.
The instructions of these manuals MUST be carefully executed because of safety reasons. Therefore each mounting instruction must be read and understood before carrying out the assembly it describes. Thus you will understand the aim of each step and consequently avoid serious problems. Refer also to the Parts Catalogue ("TCI" document) in order to check you actually have each part of the kits.
"MCR control inspection before first flight" document (Ref. MEXNO05) must be filled, signed, and a copy of it must be given to SE-AVIATION's Airworthiness Department.
Finally no modification of any part of the Aircraft design will be validated by SE-AVIATION.
---
TABLE DES MATIERES
TABLE OF CONTENTS
1. LES MATERIAUX DU MCR / Materials used in the MCR
2. MISE EN OUVRE DES MATERIAUX COMPOSITES / Composite materials and associated procedures
2.1. PREPARATION DES PIECES / Part preparation
2.4. LES DIFFERENTS TYPES DE TISSUS / Various types of fabric materials
3. ASSEMBLAGES MECANIQUES / Mechanical assemblies
3.1. VIS COURANTES - DIMENSIONS, DESIGNATION / Usual screws - Dimensions, names.

3.2. COUPLES DE SERRAGE / Tightening torques.
---
1. LES MATERIAUX DU MCR
Materials used in the MCR
Les matériaux composant l'avion sont principalement le carbone, le klegecell et l'aluminium. Vous aurez à effectuer des opérations sur ceux-ci et à ce titre respectez les conseils qui vous sont donnés ci-dessous.
The main materials used in this aircraft are : carbon, klegecell (PVC foam) and aluminium. You will have to perform various operations on these, and must consequently follows the guidelines given here under.
Vous aurez à manipuler des pièces de petites tailles et d'épaisseur supérieure au millimètre, ces pièces ne sont pas fragiles et ne demandent pas de précautions excessives.
You will have to manipulate small parts thicker than a millimetre, they aren't therefore fragile and do not require any special precautions.
Vous aurez aussi de grande feuilles qui constitueront les revêtements de voilure, de volets, d'empennage et de direction. Ces feuilles sont en 4/10 ou 5/10 de millimètre d'épaisseur et sont donc facilement marquées. (ces revêtements sont progressivement remplacés par des pièces en fibre de carbone)
You also will have to deal with large sheets used as wing, flaps tailplane and rudder skins. These are 4/10 or 5/10 mm thick and are therefore very vulnerable to dents and marks. (those skins are being replaced by carbon fibre parts).
Certaines nuances d'aluminium s'oxydent au contact de l'air (A-U4 G 2017, 2024). C'est pourquoi il est préférable de protéger par un primaire et éventuellement une peinture les pièces soumises aux intempéries. (Dorénavant, de telles pièces sont fournies avec une protection époxy industruelle, Voir mise à jour du 06/04/2001)
Some aluminium alloys are subject to oxydisation when exposed to the air (A-U4 G 2017, 2024). This is why it is preferable to protect them with a primer and possibly a paint coating for those exposed to weather hazard. (Now those sheets are being provided pre-coated with an epoxy layer (industrial process), Read update of 06/04/2001)
1.1.1. protection époxy des tôles d'aluminium / aluminium sheets epoxy coating
ATTENTION : IMPORTANT
Voir mise à jour du 06/04/2001
concernant la protection époxy des tôles d'aluminium.
Read update of 06/04/2001
relative to the aluminium sheets epoxy coating.
Sauf si une protection époxy est déjà appliquée, L'intérieur des tôles de voilure, volet et empennage est peint avec un primaire de protection ("Chromate"). Il faut au préalable préparer la tôle pour une bonne accroche de la peinture (voir "test de l'eau"), et bien déglacer cette peinture au moment des collages (vois § modes opératoires des collages).
Except if the sheets are already epoxy coated, The inner side of the wing, flap tailplane and rudder skins are painted with a zinc-chromate primer. You must first have the skin prepared to ensure a good bonding of the paint ( see "water test"), and slightly abrade the paint just prior to bonding (see section dealing with bonding modus operandi).
Pour le reste, à chaque opération de collage d'une pièce aluminium, il faudra :
<![if !supportLists]>· <![endif]>Effectuer un décapage de la pièce au papier de verre grain 180 afin d'éliminer la couche superficielle oxydée
<![if !supportLists]>· <![endif]>nettoyer la pièce à l'acétone avant collage avec un chiffon propre et non pelucheux, ou bien en la plongeant dans un bain d'acétone.
<![if !supportLists]>· <![endif]>ne plus toucher la pièce avec les doigts nus
Otherwise, for each aluminium part bonding operation, you will have to :
<![if !supportLists]>· <![endif]>Abrade the part with glass paper (abrasive grit "180") to remove the alumina.
<![if !supportLists]>· <![endif]>Clean the part with acetone prior to bonding, with a non-fluffy clean white rag, or by plunging the part directly into an acetone bath.
<![if !supportLists]>· <![endif]>Do not touch the part with your bare hands.
Certaines pièces seront soumises à des cycles de contraintes qui provoquent la fatique du matériau, ce qui peut entraîner l'apparition de criques (fissures) à plus ou moins long terme. Tous les angles vifs, les rayures, les découpes en "dents de scie" favorisent l'apparition de fissures, et sont donc à proscrire.
A few parts undergo loading cycles which cause fatigue to appear in the material, and thus may yield cracks sooner or later. All sharp corners, dents, sharp "teeth" cut-outs promote crack initiation and propagation, and must therefore be avoided.
Pour tous les travaux effectués sur le carbone vous devrez être très attentifs.
When dealing with carbon , you must pay great attention.
Le carbone est un matériau très résistant mais également fragile par certains cotés.
En règle générale, évitez toute initiative personnelle qui touche à la structure de l'appareil : même un tout petit trou, mal placé, peut compromettre gravement la solidité de l'appareil ( longerons et poutres ). Le carbone est un matériau qui ne réagit absolument pas comme du métal : seuls des spécialistes peuvent apprécier les conséquences d'une erreur qui pourrait vous paraître anodine.
A tous les stades respectez les principes exposés plus loin et en cas de doute demandez, cela vous évitera des erreurs à réparer.
Et dans tous les cas le soin est toujours payant.
Carbon is a very resistant material, but also fragile in some respect.
As a general rule, avoid all personal initiative concerning the aircraft structure : even a small, misplaced hole, may jeopardise the aircraft structural integrity, and therefore strength (spars and beams). Carbon does not react like any metal : only specialists may appreciate the consequences of a mistake you might think irrelevant.
At every stage, respect the principles given further down, and if there's any doubt, ask, you will thus avoid coping with mistakes.
And finally, in any case, care does pay !
Lors des opérations de détourage des pièces, faites attention à ne pas déraper avec les outils. Tous les angles vifs sont à proscrire, donc faites des rayons de raccordement.
When contouring the parts, pay attention to keep the tools under tight control (don't let them drive you !). All sharp angle must be avoided, thus make blending radius.
Ne passez pas un cutter sur du carbone, une rayure est une amorce de rupture.
Do not use a cutter on a carbon part, a scratch is a crack-to-be.
Si par mégarde il vous arrivait d'effectuer une erreur, surtout dites le nous, quelque chose qui vous semble insignifiant est peut être important.
If by any (lack of) luck, you've made any mistake, tell us ! Something you might think insignificant might be important.
Avant toute opération de collage :
<![if !supportLists]>· <![endif]>Enlever le tissu de délaminage s'il y en a un.
Remarque : SI VOUS RETIREZ LE TISSU DE DELAMINAGE JUSTE AVANT LE COLLAGE LES OPERATIONS SUIVANTES NE SONT PAS UTILES.
Si le tissu de délaminage est retiré longtemps avant collage ou s'il n'y en avait pas :
<![if !supportLists]>· <![endif]>poncer la surface au papier de verre grain 120~180, lorsque la surface est mate, arrêtez vous, vous ne devez en aucun cas faire de la poussière noire.
<![if !supportLists]>· <![endif]>aspirer la poussière.
<![if !supportLists]>· <![endif]>nettoyer la surface à l'acétone avec un chiffon propre.
<![if !supportLists]>· <![endif]>ne touchez plus la surface avec les doigts nus.
Before any bonding operation :
<![if !supportLists]>· <![endif]>Remove the dlamination sheet, if there's any.
Note : IF YOU REMOVE THE DELAMINATION SHEET JUST PRIOR TO BONDING, THE FOLLOWING OPERATIONS ARE NOT REQUIRED.
If the delamination sheet is removed long before bonding, or if there isn't any :
<![if !supportLists]>· <![endif]>Abrade the surface with sand paper (abrading grit "120~180"), when the surface is dull black, stop. You must in no case get black dust !
<![if !supportLists]>· <![endif]>Vacuum-clean the dust.
<![if !supportLists]>· <![endif]>Clean the surface with acetone with a clean white rag.
<![if !supportLists]>· <![endif]>Do not touch the surface with your bare fingers.
Pas d'opération particulière si ce n'est un dépoussiérage (aspirateur) de la pièce avant collage pour enlever les résidus d'usinage ou la poussière ambiante.
No particular operation, apart from vacuum-cleaning the item prior to bonding to remove any remnant due to machining or the ambient dust.
L'acier entre dans la fabrication de pièces où sa résistance mécanique est nécessaire, bien qu'il soit plus lourd que l'aluminium. En règle générale ces pièces sont très solides et ne nécessitent pas de précautions particulières. Malheureusement les aciers nobles sont sensibles à la corrosion (rouille). C'est pourquoi nous traitons ces pièces avec un "cadmiage" (aspect doré).
Steel is used to manufacture items where mechanical strength is required, albeit heavier than aluminium.
In general, these parts are very resistant, and do not require any particular precaution. However, high-performance steels are subject to corrosion (rust). This is why they are "cadmium" treated (they look shiny like gold).
Il vous faudra en plus mettre de l'huile anti-corrosion en bombe (type WD 40) :
<![if !supportLists]>· <![endif]>à l'intérieur des tubes des biellettes de commande, du combiné de manche, du combiné de gaz,...
<![if !supportLists]>· <![endif]>dans les vis mères de commande de volets ULM Club et ULC
<![if !supportLists]>· <![endif]>et en règle générale toutes les pièces d'accès difficile où la corrosion est favorisée (à cause de la condensation par exemple)
You also will have to put anti-corrosion oil spray (WD-40 type) :
<![if !supportLists]>· <![endif]>inside the control rod tubes, stick assembly, throttle quadrant...
<![if !supportLists]>· <![endif]>On the lead screws of the Ultra-Light and Club versions flaps systems.
<![if !supportLists]>· <![endif]>In general, on all items difficult to access, wher corrosion is likely to appear (because of condensation for instance).
---
2. MISE EN OUVRE DES MATERIAUX COMPOSITES
Composite materials and associated procedures
Vous aurez parfois à "stratifier" certains assemblages, c'est à dire appliquer du tissu de carbone ou de verre et l'imprégner avec de la résine. En général, on applique par dessus un "tissu de délaminage" pour absorber l'excédent de résine et rendre la surface rugueuse (meilleure accroche des peintures ou des collages ultérieurs).
You'll have sometimes to "wet lay-up" or "laminate", i.e. apply carbon or glass fiber plies and impregnate them with resin. Usually, you must apply a "delamination sheet" over it, to absorb the excess of resin and leave a roughened surface (makes a better grip for future paintings or bonding).
2.1. PREPARATION DES PIECES / Part preparation
Les remarques suivantes sont essentielles. La structure primaire du MCR est stratifiée et/ou collée et il est impératif de suivre les procédures décrites dans ce document et dans les manuels.
The following comments are essential. The MCR main structure is laminated and/or bonded and it is of utmost importance to follow the written procedures described in this document and in the manuals.
Nous insistons sur le fait que chacune de vos opérations de collage devra toujours être effectuée avec la même rigueur et le même souci selon les modes opératoires recommandés.
We insist that you must carry out every single bonding operation with the same rigour and care in accordance with the methods recommended here.
Les colles et résines sont à l'heure actuelle un moyen d'assemblage extrêmement performant et de mise en œuvre simple. Mais le non respect de quelques principes élémentaires d'utilisation peut, sans que cela soit visible, altérer de façon très significative la qualité et la solidité de votre travail. C'est pourquoi vous ne devez jamais oublier les quelques notions simples qui suivent :
<![if !supportLists]>· <![endif]>ponçage
<![if !supportLists]>· <![endif]>dépoussiérage des matériaux à assembler
<![if !supportLists]>· <![endif]>dégraissage
Glues and resins are nowadays a very effective mean of assembly, and easy to be used. However, failure to comply with a few elementary principles might, without any visible clue, lead to an altered quality and resistance of your work. This is why, when bonding or laying plies with resin, you must always keep the following principles in mind :
<![if !supportLists]>· <![endif]>abrading
<![if !supportLists]>· <![endif]>vacuum cleaning of the items to be assembled
<![if !supportLists]>· <![endif]>degreasing

Le ponçage a pour but d'éliminer soit les aspérités de résine qui pourraient subsister à la surface des pièces composites soit la couche d'alumine qui se forme sur les pièces en aluminium non traité. De plus la rugosité ainsi créée augmente la surface de collage.
Abrading is done in order to smooth out the remnants of resin which may be present on the surface of the composite parts, or to remove the alumina layer on the non-treated aluminium parts. Moreover, the roughness created in doing so maximises the bonding surface.
Selon les matériaux, il faut utiliser différents types d'abrasifs :
- Tôle nue : utilisez du Scotch-Brite et de l'Ajax, et faites le "test de l'eau" (voir le document lié).
- Tôle avec une protection époxy : utilisez du Scotch-Brite.
- Pièces en aluminium non traitées : poncez la couche superficielle d'alumine au papier de verre grain 180.
- Surface peinte au "chromate" : lorsqu'on peint le chromate, il se forme une première couche très résistante, mais un voile sans cohésion se dépose par dessus. Il faut le retirer sans enlever la couche résistante. Utilisez pour cela du Scotch-Brite, et frottez jusqu'à ne plus pouvoir enlever de peinture avec l'ongle.
- Carbone : utilisez du papier de verre grain 120~180, et poncez pour rendre la surface de résine mate. Evitez d'attaquer les fibres de carbone : la poussière doit être blanche et pas noire.
According to different materials, use different abrasives :
- Bare metal sheet : use Scotch-Brite and Ajax, perform the "water test" (see associated document).
- epoxy-coated aluminium sheet : use Scotch-Brite.
- Non-treated aluminium parts : Abrade the thin layer of alumina with glass paper (Abrasive grit "180").
- "Chromate"-painted surfaces : when you paint with chromate, appears first a very tough layer, but also a useless thin coat. You must remove the latter but leave the former untouched. Use a Scotch-Brite for this, and scrub until you cannot remove the paint with your nail.
- Carbon : Use Glass paper (Abrasive Grit "120~180"), and abrade to make the resin surface appear dull black. Do not abrade the carbon fiber : the dust must be white, not black.

Dépoussiérez de préférence à l'aspirateur ou au chiffon, plutôt qu'à la soufflette. D'une part c'est plus propre et en plus l'air de la soufflette est plein de gouttelettes d'huile.
Vacuum-clean, preferably with a proper vacuum-cleaner and a rag, than with a blower or an air gun. It's cleaner, and blowers and air guns have their air full of oil particles.

Le dégraissage à l'acétone est très important.
Pour les tôles peintes au "Chromate" ou à l'époxy, imbibez le chiffon d'acétone et essuyez comme indiqué, jusqu'à ce qu'il ne reste aucune trace de primaire sur le chiffon (utilisez pour cela plusieurs chiffons propres). Ne pas insister sur une zone réduite sous peine de dissoudre complètement le chromate, il vaut mieux essuyer d'un bout à l'autre.
The Acetone degreasing is very important.
For the "Chromate-painted" or epoxy coated aluminium sheets, soak clean white rags with acetone and clean as shown below, until there is no trace left on the rag (use many clean white rags for this). Do not insit on a particular zone, you might otherwise completely dissolve the chromate, you better clean from one end to the other.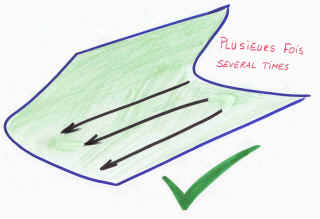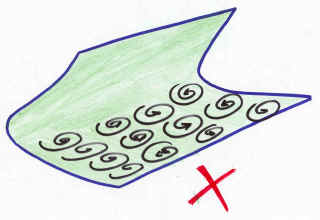 Ensuite, ne touchez plus les pièces à mains nues. Le dégraissage doit être fait au maximum 1 heure avant le collage. Par contre, assurez-vous que l'acétone est sec avant de coller car c'est un diluant des colles utilisées.
The, do not touch the parts with your bare hands. Degreasing must be done at earliest an hour before bonding. On the other hand, ensure that acetone has dried before bonding, because it dissolves the glues used on this aircraft.
Ne surtout pas sécher l'acétone à la soufflette : on injecte de l'huile dans l'air comprimé.
Do not dry the acetone with any kind of blower: you have oil particles in the air blown.
---
2.2. LES COLLES / Glues
Colle époxy Axson A-175/400
Vous utiliserez principalement de la colle bi-composant en cartouches jumelées Axson A-175/400.
C'est la colle bi-composant structurale par défaut, que vous devriez utiliser quand il est dit de coller des pièces, sans spécifier le type de colle.
Elles est fournie avec le kit, elle se présente sous la forme de cartouches jumellées et doit être utilisée avec un pistolet à colle à double pistion (disponible en option sous la référence Dyn'Aéro ZMAPT0900)
Elle est utilisée pour coller les matériaux suivants :
- Aluminium sur aluminium
- Aluminium sur carbone
- carbone sur carbone
- bois sur carbone
- bois sur bois
Veuillez consulter le document lié sur la colle époxy
You will principally use epoxy Axson A-175/400 glue in twin-cartridge packs.
This glue is the default two-component epoxy glue and should be used whenever you are instructed to glue or to bond, without a specific indication to the glue type.
It is supplied with the A/C kit, comes in a twin-cartridge packs and should be used with a double piston glue gun. (Also available as Dyn'Aero Option # ZMAPT0900)
It is used to bond following materials :
- Aluminium to aluminium
- Aluminium to carbon
- Carbon to carbon
- Wood to carbon
- Wood to aluminium
See associated document about epoxy glue.
Tecnite MSP15
Cette colle est du type "Polymère de Silicone Modifié", de couleur noire.
Elle est fournie avec le kit, sous forme d'une cartouche simple, .
Elle est utilisée pour coller la verrière, et certains points spécifiques comme indiqué dans les gammes de montage.
Sa caractéristique principale est son élasticité et sa très bonne résistance au pelage, ce qui la rend particulièrement efficace pour coller des pièces soumises à vibrations, ou des matériaux de raideurs très différentes (le plexi sur le carbone par exemple).
Malheureusement elle ne résiste pas à l'essence !
This glue belongs to the single-component Modified Silicone Polymer type of glues, colored black.
It is supplied with the A/C kit, comes in a single-cartridge pack and should be used with a single piston glue gun.
It is used to bond the canopy, stainless-steel to carbon and other special items as specified in the mounting instructions.
Its particular feature is its elasticity and it is particularly resistant to peeling, making it particularly efficient to glue parts subject to vibrations or materials with different stiffness (plexi to carbon).
Unfortunately it can't be used in contact with fuel !
Mastic Polyurethane
Colle-mastic polyuréthane, mono-composant, de couleur blanche.
Elle est fournie avec le kit, sous forme d'une cartouche simple, et s'utilise avec un pistolet à colle-mastic standard à un seul piston
Elle sert à coller des pièces à l'extérieur du fuselage (comme les cache sangles de parachute) et on peut peindre par dessus.
This glue is belongs to the single-component Polyurethane type of filler glues, colored white.
It is supplied with the A/C kit, comes in a single-cartridge pack and should be used with a single piston glue gun.
It is used for gluing details outside the fuselage, and paint over it
Loctite (R) 243 / 270(1) / 638 / 648
Ce sont les colles standard équipant tout bon atelier de mécanique. Elles ne sont pas fournies avec le kit. Un flacon standard de 50 mL de chaque doit amplement suffire pour tout l'avion. Elles sont utilisées pour des applications spécifiques, mentionnées dans les instructions de montage.
These are standard glues for mechanical workshop. They are not supplied with the A/C kit. One standard flask (50 mL) of each should be enough for the whole A/C.
They are used in special places as specified in the mounting instructions
Colle contact Néoprene
Colle contact néoprène liquide standard.
Elle n'est pas fournie dans le kit. Un pot de 1 L doit suffire amplement .
Sert à coller les protections thermiques dans le capot moteur, etc...
This is a standard "Contact-Glue".
It is not supplied with the A/C kit. A standard 1 liter package should be enough for the whole A/C.
It is used to bond the firewall and heat-resistant sheets in the engine compartment
---
2.3. LA RESINE SR 1700 / SR 1700 Resin
SR 1700 résine époxy / epoxy resin
SD 2703 durcisseur / hardener
Mode opératoire du mélange à réaliser / melange preparation
| | |
| --- | --- |
| 1 | résine SR 1700 / SR 1700 resin |
| 2 | 31 % en masse de durcisseur SD 2703 / 31 % in mass of SD 2703 hardener |
| 3 | mélanger 1 minute pour homogénéiser / Stir 1 minute to get an homogeneous melange |
Une balance électronique standard, avec une résolution de 1 gramme et une fonction de remise à zéro ("tare"), est tout à fait adaptée.
A standard electronic balance with 1 gr resolution and a zeroing function, to balance out the mixing bowl weight, will do an excellent job.
Tableau de mélange / Mixing chart
| | | |
| --- | --- | --- |
| SR 1700 | SD 2703 | Total |
| (50) * | (15.5) | (65.5) |
| 100 | 31 | 131 |
| 200 | 62 | 262 |
| 300 | 93 | 393 |
| 400 | 124 | 524 |
| 500 | 155 | 655 |
* évitez de mélanger de trop petites quantités car les erreurs de dosage deviennent plus critiques
* avoid mixing too small quatities, because the mixing proportion errors become more critical

---

2.4. LES DIFFERENTS TYPES DE TISSUS
Various types of fabric materials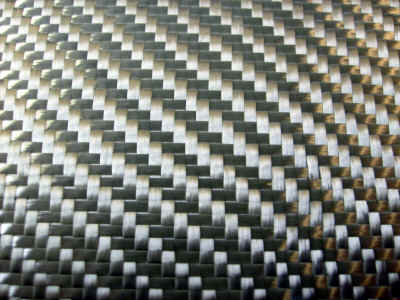 Sergé (2-2) / Twill
C'est un tissu où les mêches de fibres sont tissées, 2 dessus, 2 dessous, etc... Il est principalement utilisé pour stratifier des formes complexes, il est assez facile à déformer.
Principalement utilisé en 200 g/m² (épaisseur : environ 0.2 mm)
This is a fabric where the fibre meshes are woven, 2 over, 2 under, etc... It is mainly used to lay-up complex shapes, it's quite easy to deform.
Weight : usually 200 g/m² (about 0.2 mm thick)
---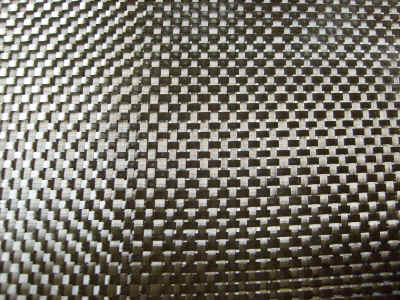 Taffetas / Plain
C'est un tissu où les mêches de fibres sont tissées, 1 dessus, 1 dessous etc... Il se "tient" mieux que le sergé, mais il est plus difficile de lui faire prendre des angles "serrés". Grammage : habituellement 200 g/m² (épaisseur env. 0.2 mm)
This is a fabric where the fibre meshes are woven, 1 over, 1 under, etc... It "holds" itself better than twill , but it's a little more difficult to make it fit in sharp angles. Weight : usually 200 g/m² (about 0.2 mm thick)
---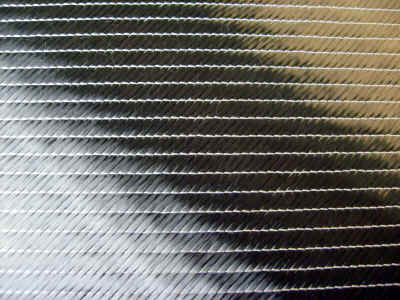 "Bibiais" ou CBX 440
C'est un tissu "biaxial" ou "bibiais" où les fibres ne sont pas tissées, ce sont deux nappes de carbone unidirectionnel drapées à +/- 45° et maintenues ensemble par une couture de fil de liage en fibre de verre. Il est principalement utilisé pour les stratifications structurales de haute résistance pour une résistance optimale au cisaillement. Grammage : 440 g/m² (épaisseur : 0.5 mm)
This is a fabric where the fibres are not woven, it is composed of two layers of unidirectionnal fibres laid at +/- 45° and held together with stitches of glassfibre. It is mainly used for structural purposes to get optimal shear stress resistance. Weight : 440 g/m². (about 0.5 mm thick)
---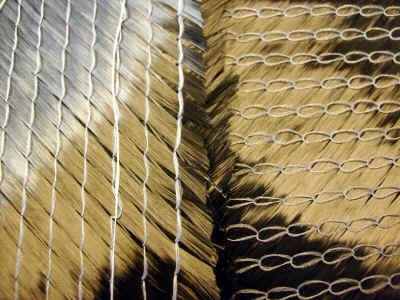 "Bibiais" MC2 200g/m²
Simillaire au CBX, mais plus léger (200 g/m²). Les mèches sont plus larges mais moins épaisses, et le tissu est plus "lâche". Au verso, le fil de liage forme des "bouclettes". Utilisé pour remplacer le Taffetas et le Sergé. (épaisseur : env. 0.2mm)
Similar to CBX 440 , but lighter (200 g/m²). The meshes are wider but thinner, and the fabric is more slack. On the reverse side, the stitches make small loops. Used to replace twill and plain. (about 0.2 mm thick)
---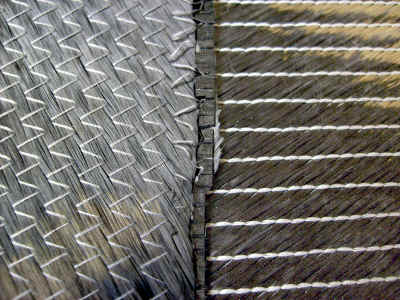 "Tri-axial" ou "MC3" ou "CTTX"
Tissu structural tri-axial, composé de 3 nappes de fibres de carbones à 0/+60°/-60°. Il est utilisé pour la fabrication des coques du fuselage et pour le renforcement des attaches inférieures du Rotax 912.Remarque : parfois les coutures sur la face arrière se présentent d'une facon plus complexe que le simple zig-zag figurant sur la photo.
Grammage : 760 g/m² (épaisseur env. 0.8 mm)
Tri-axial fabric, made of 3 layers of unidirectionnal meshes at 0/+60°/-60°. It is used to make the fuselage shells and to reinforce the Rotax 912 lower attachment points.
Please note that sometimes, the stitches on the front side, have more complex pattern than the simple "zig-zag" shown in the picture.
Weight : 760 g/m² (about 0.8 mm thick).
---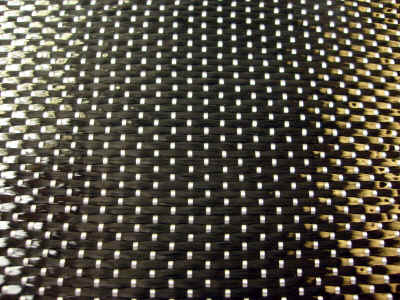 Uni-Directionnel (UD)
Mèches de fibres de carbone unidirectionnelles, retenues par des fils de liage. Ces bandes sont utilisées pour retransmettre des efforts axiaux. Ne jamais couper, percer ou poncer le fuselage à l'endroit des renforts unidirectionnels. Se présente en général sous la forme de bandes de 10 cm de large en grammage 500 g/m² (épaisseur environ 0.6 mm), mais existe sous d'autres formes.
Unidirectional carbon fibre meshes, held together by fine glassfibres. Those stripes are used to hold axial forces. Never cut, drill, or abrade the fuselage in the area of the unidirectional carbon reinforcement stripes. Usually found in 10 cm wide stripes, weight 500 g/m² (about 0.6 mm thick), but there are some other types.
---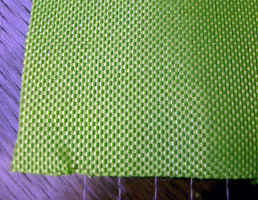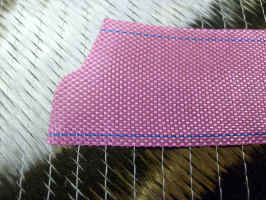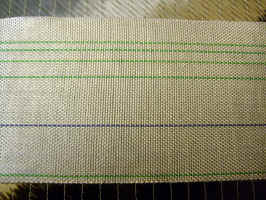 Tissus de délaminage / "Peel Ply" or "Delaminating sheet"
Ce tissu est appliqué sur la dernière couche de la stratification. Il absorbe en partie l'excédent de résine, et protège le composite des salissures. Il faut IMPERATIVEMENT le retirer avant de coller ou de stratifier. Si il est enlevé au dernier moment, la surface est parfaite pour un collage ou une strate : très rugueuse et parfaitement propre. Il en existe différentes sortes : vert fluo, rose avec des lignes, blanc avec des lignes... Attention : ce dernier est difficile à voir car il devient transparent : ne pas oublier de le retirer !
This peel ply is laid over the last layer of the composite. It absorbs the resin in excess, and protects the composite from dust and grease. It is ABSOLUTELY MANDATORY to remove it before glueing or laminating. If it is removed just at the last minute, the surface underneath is perfect for gluing or laminating : very rough and perfectly clean. There are many types : green fluo, pink with lines, white with lines... Be careful : the white one gets transparent with resin and it is difficult to see it : d'ont forget to remove it !
---
Préparation des tissus
Fabric material preparation
- préparez les morceaux de tissu dont vous aurez besoin, et entreposez les à l'abri de la poussière (respectez les types de tissus et l'orientation des fibres indiquées dans les gammes de montage). Remarque : il est important de respecter l'orientation des fibres prescrite.
En particulier vous aurez souvent à faire des stratifications avec des bandes de sergé de carbone "à 45°". Cette orientation permet de faire passer des efforts de cisallement, par exemple entre les couples et la peau du fuselage. Préparez ces bandes de tissu comme ci dessous.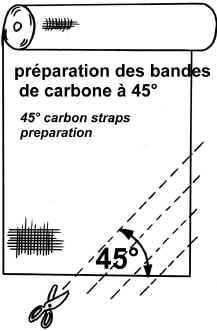 - Prepare the plies you'll need (in correct shapes and length), and store them in a dust-free environment (comply with the assembly instructions on which type of fiber, mesh and fiber orientation to use).
Note that it is very important to ensure that the correct fiber orientation is used !
In particular, you will often have to lay-up some "straps" of carbon "at 45°". This orientation gives strength in "shear stress", between the frames and the fuselage skin for example. Prepare the straps as shown above.
---
2.5. STRATIFICATION / Wet lay-up laminating
- poncez et dégraissez soigneusement les zones à stratifier.
- préparez la résine (voir tableaux ci dessus). Globalement préparez en masse, la masse des tissus à appliquer + 10% .
- au pinceau, badigeonnez la zone où vous placerez la fibre.
- posez le tissu sur la zone et tamponnez avec le pinceau pour faire pénétrer la résine. Rechargez les zones non imprégnées. Insistez sur les bords du tissu pour éviter qu'ils se décollent.
- appliquez par dessus le tissu de délaminage tamponnez au pinceau pour faire absorber l'excédent de résine (Attention : ne jamais intercaler de tissu de délaminage entre 2 couches de carbone !!!)
- Abrade and degrease thoroughly the zones to be laid-up upon.
- Mix some resin (see charts above). Generally speaking, prepare 10% more resin than the weight of the fabric materials prepared.
- Place some resin with a brush, where you're going to put the plies.
- Place the plies and tap them with the brush to make the resin penetrate the plies. Add some more resin to the zones where it lacks (dry ones). Insist on the plies edges to avoid them warping and unsticking.
- Place the delamination sheet over it , and tap with the brush again, to have the excess of resin absorbed.
(Warning : never insert a delamination sheet between two carbon layers !!!)
Pour de plus amples informations, nous vous conseillons la lecture de ce document (en anglais).
For detailed information, you can read the following document :
AC-43-13 (Chapitre 3) : Circulaire d'information à propos de la réparation des pièces en composites. (En Anglais)
Advisory Circular about "Light Load Laminate Repair Procedure". (English language).
---
3. ASSEMBLAGES MECANIQUES
Mechanical assemblies
Il est impensable de résumer ici en quelques lignes toutes les "règles de l'art" dans la construction des avions...
It is reasonnably not possible to sum up here in a few words all the good practice and methods in aircraft buiding...
Pour les personnes parlant l'Anglais, nous vous conseillons la lecture des "Advisory Circulars" publiées sur le site de la FAA.
We advise you to read the "Advisory Circulars" published by the FAA, available on their website.
En particulier, pour la mécanique en général, voir :
Especially, about general mechanics, see :
| | |
| --- | --- |
| | AC-43-13 (Chapitre 9 et 10) |
3.1. VIS COURANTES - DIMENSIONS, DESIGNATIONS
Usual screws - Dimensions, names.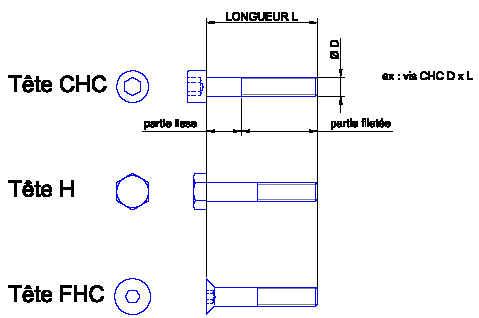 Partie lisse :
Dans le cas d'assemblages avec mouvements relatifs entre les pièces, vibrations, ou si la fixation transmet des efforts de cisaillement importants, il faut TOUJOURS utiliser une vis avec une partie lisse qui s'appuie dans les trous des pièces à assembler. Dans le cas contraire, les filetages et les trous s'endommagent. Au besoin, ajouter des rondelles pour ne pas serrer les écrous à fonds de filets.
Dans ce cas, souvent les parties filetées sont trop longues. Il est conseillé de couper la partie filetée en excès, mais il est INTERDIT de tronconner sur place avec un disque fibre ! (l'échauffement détruit la bague-frein du nylstop).
Repérez la longueur, démontez, coupez proprement, faites un chanfrein d'entrée , et passez le bout de la vis à la brosse métallique pour casser les arètes vives qui découpent les nylstop et les rendent inopérants. Mettez de la peinture ou du vernis sur la partie coupée pour éviter la corrosion.
Plain shank : "partie lisse" :
When a relative motion is possible between the assembled parts, in case of vibrations, or if the screw holds strong shear stress, you must ALWAYS use a screw with a plain shank in contact with the holes in the parts to assemble. Otherwise, threads and holes damage each other. Note : if required, pack some washers to avoid tightening the nut against the beginning of the threads.
In this case, the threads are often too long. It is advised to cut to length, but it is FORBIDDEN to cut it in place with a high speed fibre disc ! (excess heat damages the nylon lock). Note the length, disassmble, cut to length, make a chamfer, and pass the tip of the screw in the metal brush to avoid sharp edges on the first thread, that cut the nylon lock and make them unefficient. Paint or varnish the tip cut to avoid rust.
3.2. COUPLES DE SERRAGE / Tightening torques.
Nous utilisons exclusivement de la visserie de classe 8.8 ou supérieure, avec un traitement anti corrosion "BZD" (sauf visserie inox non structurale). La classe de qualité est indiquée sur les têtes de vis. Attention, la résistance des vis peut être altérée par le traitement anti corrosion si il n'est pas adapté. N'utilisez pas de visserie de provenance douteuse. Il en va de votre sécurité.
We only use metric size, class 8.8 or better screws, with a "BZD" anti corrosion shield (exept on stainless steel screws that are not structural). The screw quality class is indicated on the screw head. Note : the resistance can we weakened by some anti corrosion treatments if they are not adapted. DO NOT USE SCREWS FROM UNKNOWN ORIGIN, FOR SAFETY REASONS.
Ces couples de serrage, en décaNewton-mètres (daN.m, ~= m.kg), peuvent être utilisés pour tous les assemblages boulonnés, sauf précision contraire spécifiquement indiquée dans les gammes de montage ou dans les manuels constructeurs (moteur, hélice, etc...). Ils correspondent aux 3/4 de la limite élastique, pour de la visserie classe 8.8. (Source : guide du dessinateur industriel).
These torques, in décaNewton meters (daN.m, ~ = m.kg) may be used for all bolted assemblies, except when specifically indicated in the assembly lines or in manufacturer's documentation (engine, propeller, etc. ...). They correspond to 75% of the elastic limit, for 8.8 class hardware
Bolt tightening torques , in decaNewton-metre (daN.m . 1 daN.m = 88.51 in.lbs = 7.39 ft.lbs)
| | | | | | | |
| --- | --- | --- | --- | --- | --- | --- |
| Diamètre | M3 | M4 | M5 | M6 | M8 | M10 |
| Couple (daN.m) | 0.12 | 0.30 | 0.6 | 1.0 | 2.3 | 4.7 |
3.3. FREINAGES / Lockwirting techniques
Couramment réalisé par des écrous nylstop. Changer les nylstop tous les 3 démontages.
Usually we use nylock nuts. Use them 3 times maximum.
Ne pas utiliser de nylstop en environnement très chaud (proximité échappement par exemple). Dans ce cas, utiliser des écrous "Simloc".
Do not use Nylock nuts in very hot places (near the exhaust for instance). In that case, use Simloc nuts.
Dans certains cas on utilise des écrous à créneaux avec une goupille.
In some cases we use castellated nuts with a cotter pin.
Freinages avec du fil à freiner.
Le mieux est de demander à une personne qualifiée de vous montrer la technique au début.
Lockwiring : the best is to ask someone with the good know-how to show you at the beginning.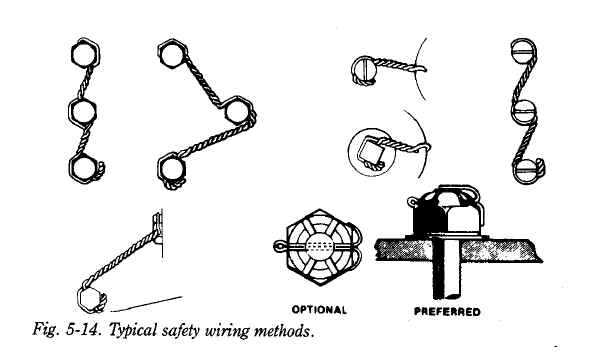 Attention au sens de freinage : vérifiez que la tension du fil "serre" la vis.
Be careful : a screw that is getting loose must tend to put the lockwire under tension.

Freinage des tendeurs de câbles. (Turnbuckle = tendeur).
Marquage des serrages et freinages.
Les éléments visés ou freinés doivent impérativement être marqués d'un trait rouge. Ceci a pour but de permettre de contrôler que les éléments ne se desserrent pas. Cela permet également lors du montage de valider les éléments installés et ne pas y revenir.
Le marquage est également utilisé lors du contrôle final du montage des éléments.
Tighten parts and lock-wired have to be marked with a red line. The objective is to check that the parts are not untighten. It also allows during the building to physically validate operations done.
These marks are useful during the final check.
<![if !vml]>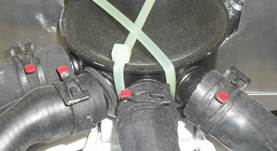 <![endif]>  <![if !vml]>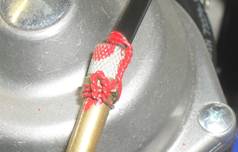 <![endif]>  <![if !vml]>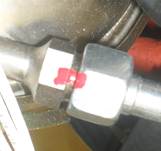 <![endif]>  <![if !vml]>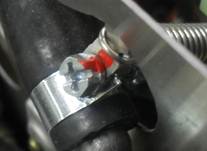 <![endif]>  <![if !vml]>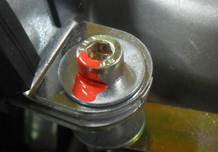 <![endif]>
Bonne construction !
Happy building !