Retour sommaire.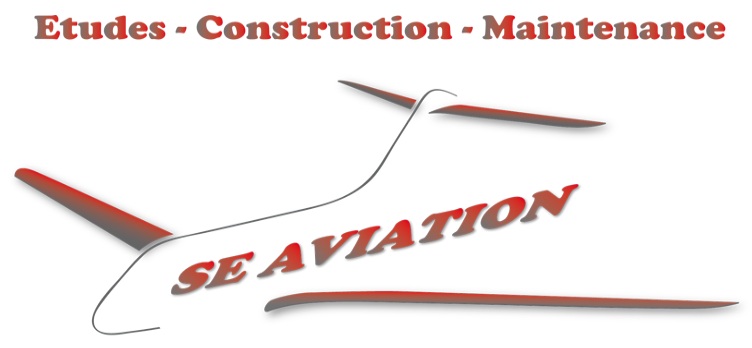 MCCNO05

CIRCUIT DE RETOUR ESSENCE
FUEL RETURN LINE.

Édition 04/03
---
---
- Vérifiez le serrage du raccord en T (AN 804 4D) sur la cloison pare-feu (voir aussi la gamme de montage moteur, chapitre habillage CPF (cliquez sur le lien).
- Check the tightness of the fitting AN 833 4D on the firewall. (See the engine mounting instructions - firewall section) (click here).
- Montez le raccord AN 894-D4-2 REDUCTEUR , et connectez la tuyauterie de retour au réservoir (diametre 1/8").
- Fit a reducer AN 894-D4-2 and connect the return line routing it to the fuel tank along the fuselage side as shown.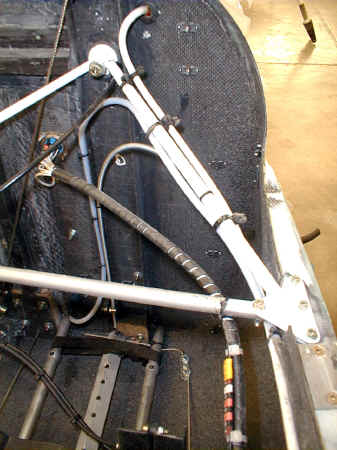 - Faites cheminer le tuyau le long du raidisseur vertical, en le maintenant avec quelques colliers plastique, puis le long du triangle de bâti, et le long du longeron de fuselage.
- Route the fuel line up the firewall stiffener and along the fuselage side securing with cable ties.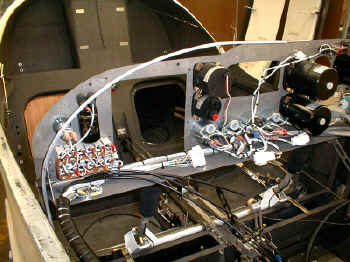 - Puis remontez au dessus de la baie radio du tableau, vers le centre de l'avion.
- Pass the fuel reurn line over the radio stack and back to the centre of the fuel tank.
- Vissez le raccord droit AN 816-2D dans l'embase du réservoir, avec de la pate "plastex".
- Screw AN fitting AN 816-2D to the fuel tank (with joint paste).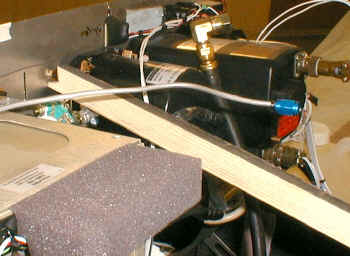 - Adaptez la longueur du tuyau pour pouvoir le brancher au réservoir en soulevant le pontet de 10 cm au dessus du tableau.
- Adjust the fuel line length so that you can connect it to the fuel tank by lifting the fuel tank so the coning is 100mm above the panel.
---

Retour sommaire.