Retour sommaire.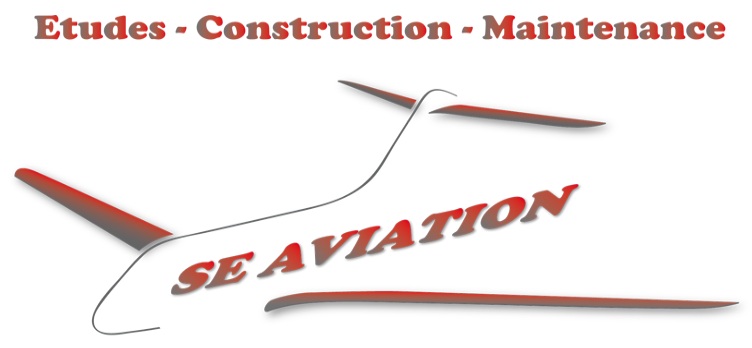 PREPARATION DU REVETEMENT EH
TAILPLANE SKIN PREPARATION
Edition 04/01
[mise à jour 14/10/2003]
---
---
Préparation du revêtement
1/ Poncage / Unpolishing
Le revêtement de la gouverne de profondeur est livré avec un laquage de protection époxy blanc.
Dépolir soigneusement une des faces de la tôle avec du scotch-brite, pour garantir un bon collage.
(Ne pas dépolir l'autre face pour le moment, cela permet de gratter les coulures de colle plus facilement).
Depuis Octobre 2003 les revetements de profondeur de Club et d'ULC peuvent être livrés en carbone. Dans ce cas il n'y a ni pliage ni préparation de surface à faire, veillez simplement à enlever le tissu de délaminage le plus tard possible avant collage pour éviter de contaminer la surface avec de la poussière et des traces de doigts
The tailplane skin is provided with a white epoxy coating.
Unpolish carefully this coating with Scotch-Brite ,on one side only of the skin, to improve the bonding quality.
(Do not unpolish the other side for the moment, it makes it easier to remove the glue drops).
Since October 2003 the Club and ULC tailplane skins can be made of carbone fibre. In that case there is neither skin preparation nor folding to do, just remind to remove the peel ply as late as possible before bonding to avoid dirtying the surface with dust or figerprints.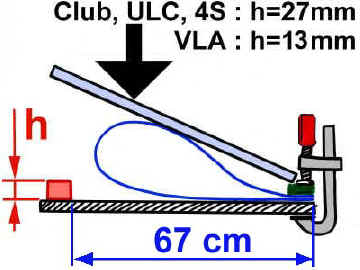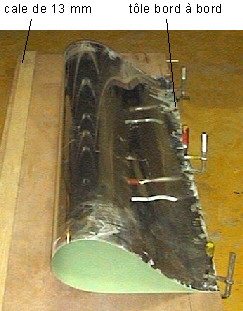 - Fixer la tôle bord à bord sur l'outil avec des serre-joints et une cale de protection. Attention, mettre al face dépolie à l'intérieur !
- Fix the folded skin to the tool with cramps, and wooden blocks. Attention : put the unpolished face inside!

- Placer la cale en bois sur l'outil.
Hauteur de la cale en bois :
- VLA : 13 mm
- Club, ULC, 4S : 27 mm
- Place the wooden strip on the tool.
Wodden strip thickness :
- VLA : 13 mm
- Club, ULC, 4S : 27 mm.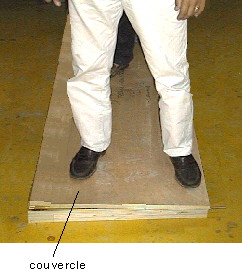 - Placer le couvercle et presser pour mettre en forme la tôle.
- Place the cover on the tool and press the tool closed.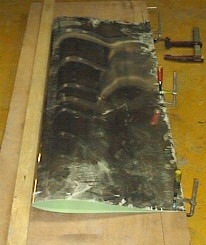 - Oter le couvercle, retirer la tôle de l'outil.
- Lift the cover and remove the skin.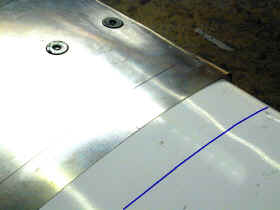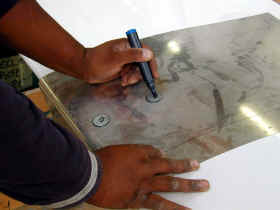 - Repérer le centre de la tôle.
- Locate the centre of the skin.
- Positionner l'outil, tracer l'emplacement des trous de 8mm.
- Place the template over the leading edge and trace the 8 mm hole positions.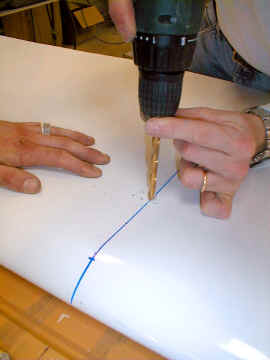 - Oter l'outil et percer la tôle, en mettant une cale en bois derrière.
- Remove the template and drill , with a wooden block behind.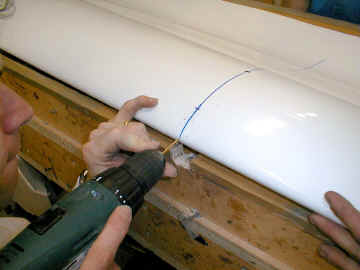 - Percez aussi un trou de 3 mm juste au bord d'attaque, au centre de la tôle.
- Drill also a 3 mm diameter hole, just at the leading edge, in the centre of the plate.
---

Retour sommaire.