Retour sommaire.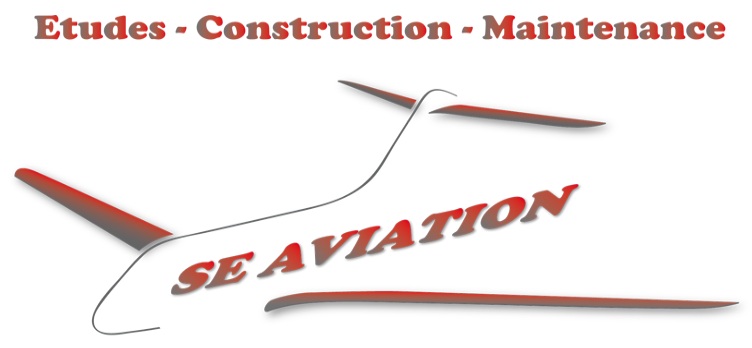 PREPARATION OSSATURE EMPENNAGE HORIZONTAL
TAILPLANE SKELETON PREPARATION

Edition 04/01 [maj 04/2004]
---
---
Rappels importants : les gouvernes de profondeur ont des tailles différentes selon les versions du MCR.
- VLA : - envergure totale 2,00 mètres avec des saumons en flèche de 170 mm
- profil symétrique.
- Club : - envergure totale 2,20 mètres avec des saumons ronds de 50 mm
- profil asymétrique. (le "creux" du profil est à l'EXTRADOS (dessous dans l'outil))
- ULC et 4S : (empennages identiques)
- envergure totale de 2,50 mètres avec des saumons ronds de 50 mm.
- profil asymétrique.
En conséquence, il exite 2 outils de fabrication différents : un pour le VLA, l'autre pour les versions Club, ULC et 4S. Il est nécessaire d'installer les rallonges en PVC pour les longerons et d'adapter le nombre de nervures pour les versions Club, ULC et 4S (voir TCI en fonction de la version).
Important remarks : the different versions of the MCR have different tailplanes.
- VLA : - total span : 2.00 m , with 170 mm long swept back tips.
- symmetric airfoil
- Club : - total span : 2.20 m , with 50 mm long round tips.
- assymmetric airfoil (the inner curve is on the UPPER surface (at the bottom in the jig, since it is built upside-down)
- ULC and 4S : (same part)
- total span : 2.50 m , with 50 mm long round tips.
- assymmetric airfoil.
As a consequence, there are 2 different jigs : one for the VLA only ,and the other one for the Club, ULC and 4S. For these last ones, it is necessary to put some PVC extensions on the spar, and adapt the number of ribs (refer to parts catalog).
Collage de la structure carbone centrale :
Carbon fiber central structure bonding :
- Poncer toutes les surfaces à encoller au papier de verre grain 120. Attention de ne pas entamer la fibre de carbone ( ne pas faire de poussière noire).
Pour le longeron : Vérifier que le tissu de délaminage a été enlevé, ne pas poncer (surface déjà rugueuse).
- Abrade all the faces to be bonded, with 120 sandpaper. Mind not to damage the carbon fibres (do not make black dust).
For the spar : Check the peel ply has been removed, do not abrade it (the srface is already rough enough).
- Essuyer la poussière.
- Wipe the dust.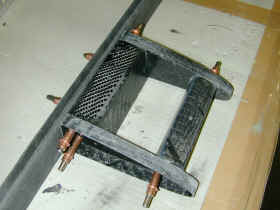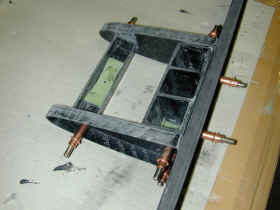 - Vérifiez que les pièces ont été pré-percées par nos soins. Vérifiez aussi que les renforts en aluminium à l'intérieur des deux boites carbone sont collés.
- Check that the parts have been pre-drilled by our staff. Check also that the aluminium renforcements have been bonded inside the two boxes.
- Faites un montage à blanc des pièces entre elles, maintenues avec des bitards. Note : on ne peut pas se tromper de sens, les trous de fixation sont volontairement asymétriques.
- Make a try assembly, with cleco fasteners, to check each parts fit together. Note : you can't put the parts "upside down", since the holes are not symmetrical (on purpose).
- Nettoyez et dégraissez soigneusement les pièces à l'acétone.
- Carefully clean and degrease the parts with acetone.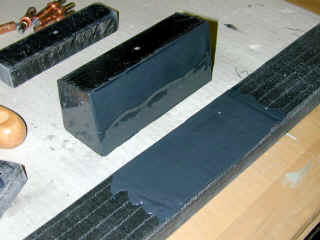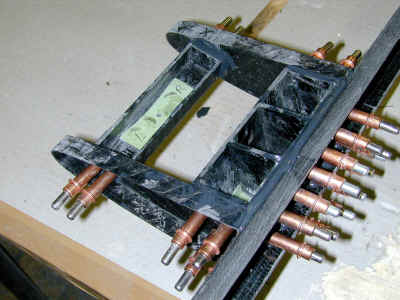 - Encollez les pièces avec la colle époxy A-175/400. Pour le collage de la boite sur le longeron, faites un double encollage (0.5 à 1 mm de colle sur chaque face). Assemblez et maintenez en place avec des bitards (pas de rivets pour le moment).
- Put A-175/400 epoxy glue on the parts. For the bonding of the "box" on the spar, make a double bonding (spread a 0.5 to 1 mm thick film of glue on each surface). Assemble and hold with cleco fasteners (do not use rivets for the moment).

- Essuyez les coulures de colle.

En particulier, nettoyez toutes les gouttes à l'intérieur de la "boite", sur les pièces en alu. (il est très délicat de les enlever une fois que la colle est durcie, et cela gênerait pour le montage des écrous de fixation des ferrures d'articulation).
- Wipe the glue drops. In particular, remove all the glue drops inside the "boxes", on the aluminium parts. (it gets very difficult to remove them once the glue is hardened, and it blocks the hinge bracket nuts mounting).

- Une fois la colle sèche (24 h), retirer les bitards, repercer les trous et mettre des rivets (mettre une goutte de colle sur les rivets avant de les poser).
Attention : pour la fixation boite/longeron , utiliser impérativement des rivets 3,2x10.
- Once the glue is cured, (24h) , remove the Clecos, counterdrill the holes and put rivets (put a drop of glue on the rivets before pulling them).
Attention : for the box/spar fixation rivets : imperative : use 3,2x10 rivets.
---
Perçage bec et queue de nervure:
Leading and trailing edge rib drilling :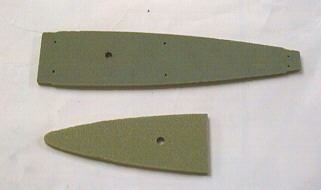 - Percer les becs et les queues de nervure pour le trou de décompression. (trou D4)
- Drill 4 mm diameter holes in leading and trailing edge ribs for air vent.
---
Positionnement / détourage des queues de nervures
Trailing edge rib positionning and contouring.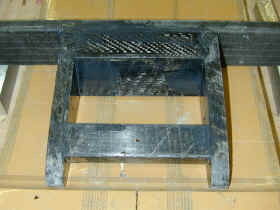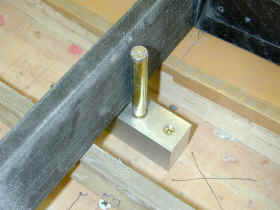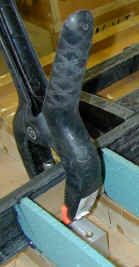 - Placez le longeron dans l'outil, centré, et en appui contre les piges. Si le longeron est vrillé, maintenez-le contre les piges avec des pinces et des cales en bois.
- Put the spar in the jig, centered, and pushed against the stops. If the spar is twisted, use plyers and wooden blocks to hold it on the metal rods.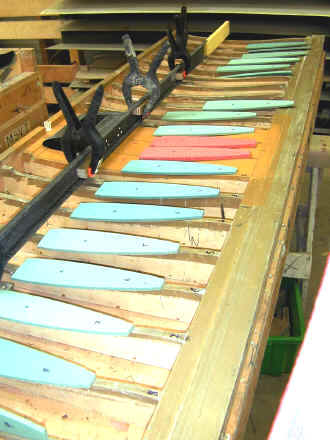 - Les berceaux de nervures de l'outil sont numérotés. Numérotez les nervures et placez les en face des berceaux.
NB : les nervures épaisses (roses) vont au centre derrière la structure carbone.
- The rib craddles in the jig are numbered. Number the ribs, and put them face to the craddles.
Note : the thick ribs (pink ones) are behind the central carbon structure.
- Les semelles du longeron carbone ont une épaisseur évolutive. Retaillez chaque nervure pour pouvoir l'insérer entre les semelles du longeron.
- The carbon spar flanges are taper in thickness. Carve each rib to make it fits inside the spar betwwen the flanges.
CLUB, ULC, 4S Uniquement :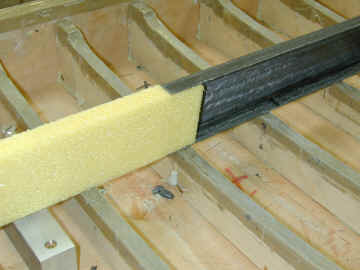 - Taillez des encoches de 30 mm dans les rallonges de longeron pour les insérer entre les semelles.
- Cut 30 mm long slots in the PVC spar extension tip, to insert it between the carbon spar flanges.
- Positionnez queues de nervures en face de leurs berceaux , derrière le longeron PVC (ce sont les nervures plus courtes). Numérotez-les
- Plance the trailing edge ribs face to their craddles, behind the PVC extension spar (these are the shorter ribs). Number them.
SUPPRIME DEPUIS 03/2004 : suite à la modification de l'outillage de production, les longerons n'ont plus besoin d'être rallongés.
CANCELLED SINCE March 2004 : after the modification of the spar production process, there is no need to lengthen them anymore.
---

Retour sommaire.