Retour sommaire.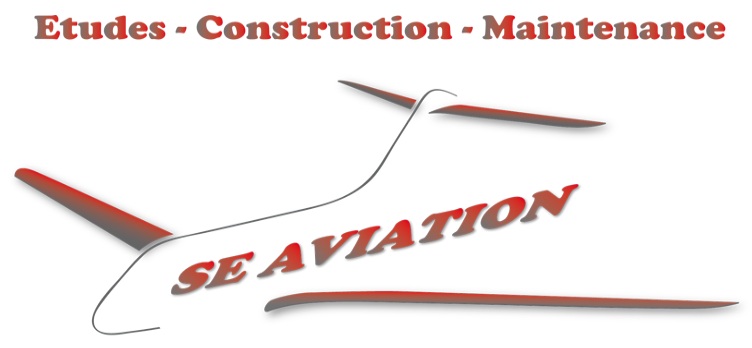 COLLAGE OSSATURE EMPENNAGE HORIZONTAL
TAILPLANE SKELETON BONDING

Edition

04/01 [maj 04/2004]
---
---
Collage ossature :
Skeleton bonding :
- Assurez-vous que les queues de nervures sont toutes numérotées.
- Make sure that all the trainling edge ribs are numbered.
- Défaites votre montage à blanc.
- Disassemble your try assembly.
- Poncez la face arrière du longeron (y compris l'intérieur des semelles). Dépoussiérez et dégraissez à l'acétone.
- Abrade the rear side of the spar (included the inner side of the spar flanges). Wipe the dust and degrease with acetone.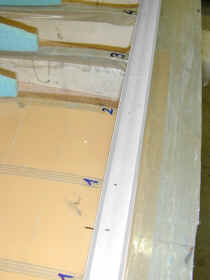 - Dépolissez l'intérieur du faux longeron au Scotch-Brite. Attention de ne pas fausser les angles de pliage. Dépossièrez et dégraissez.
- Unpolish the inner side of the aluminium false spar, with Scotch-Brite. Mind not to distord the bending angles. Wipe the dust and degrease.
- Dépoussièrez les nervures en Klegecell (aspirateur).
- Remove the dust on the Klegecell ribs (vacuum cleaner).
- Positionnez le longeron dans l'outil, bien au centre. Plaquez-le contre les piges et maintenez-le avec les pinces et les cales en bois.
- Place the spar in the jig, well centered. Put it against the rods, and hold il with plyers and wooden blocks.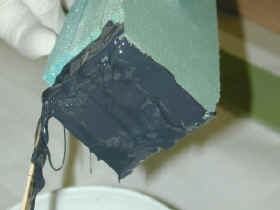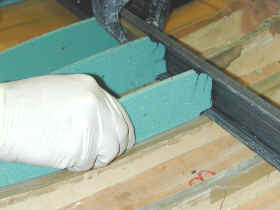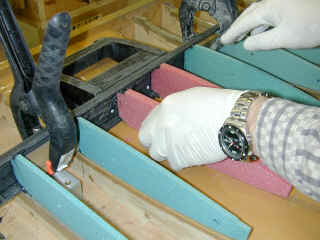 - Encollez l'avant des queues de nervure , à la colle époxy A-175/400. (Vous pouvez les regrouper par lots de 5 ou 6, et étaler la colle sur l'ensemble du lot pour aller plus vite).
Positionnez les nervures derrière le longeron, en respectant leur numérotation.
- Spread glue on the front face of the trailing edge ribs, with A-175/400 epoxy glue. (You can gather them by lots of 5 to 6 ribs, and spread the glue on the whole lot, to go faster).
Place the ribs behind the spar, respecting their numbers.
---
Club - ULC - 4S seulement / only :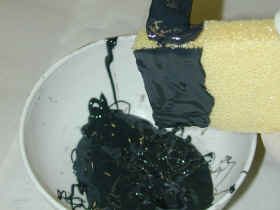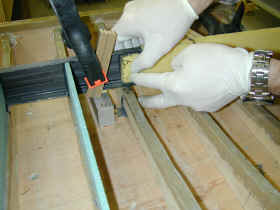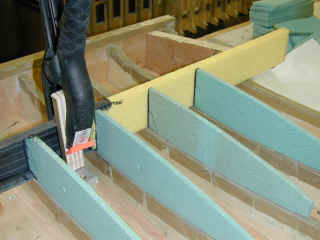 - Collez les rallonges de longeron en Klegecell. Calez les extrémités avec les cales en bois.
- Bond the Klegecell spar extensions. Hold them straight with wooden blocks.
- Collez-y les nervures supplémentaires (courtes).
- Glue the extra ribs (the shorter ones) on them.
SUPPRIME DEPUIS 03/2004 : suite à la modification de l'outillage de production, les longerons n'ont plus besoin d'être rallongés.
CANCELLED SINCE March 2004 : after the modification of the spar production process, there is no need to lengthen them anymore.
---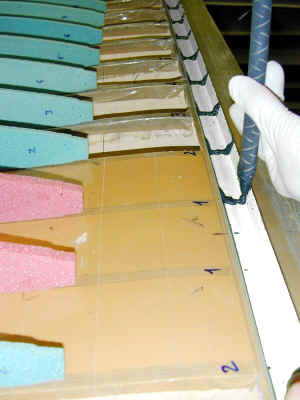 - Localisez le centre du faux longeron. Positionnez-le en face des nervures dans l'outil. Mettez un cordon de colle époxy en face de chaque nervure.
- Localise the centre of the false spar. Put it in the jig, face to the ribs. Put a glue bead in front of each rib tail.
- Réajustez la position de chaque nervure.
- Re-position each rib, in the case they have moved.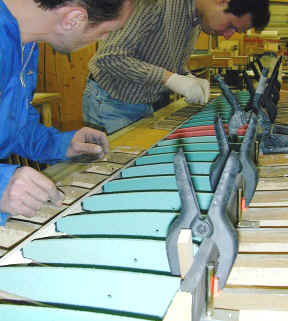 - Emboitez le faux longeron sur toutes les queues de nervures. Assurez-vous que tous les cordons de colle sont bien écrasés par les nervures. (Dans les cas où une nervure "tombe" à côté, tordez-la, amenez l'arrière en face du cordon de colle sans faire glisser l'avant, et relachez-la pour qu'elle se mette en pression).
- Put the false spar on all the ribs. Check that every glue bead is pressed by a rib. (In the case a rib falls beisdes, then bend it, bring its rear edge face to the glue bead without making it slide at the front, and release it to make it press the glue bead).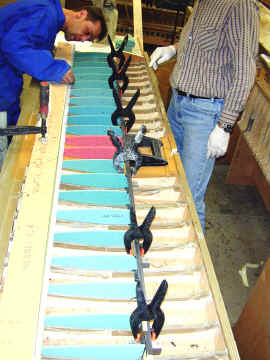 - Posez une règle bien droite derrière le faux longeron,
Pressez vers l'avant (pas trop fort),
Maintenez avec un serre-joint.
- Put a straight ruler behind the false spar,
Press forwards (not too much!),
Hold with a clamp.
- Si l'épaisseur du faux longeron n'est pas régulière, posez une règle dessus (protégée avec du scotch d'emballage), et appuyez avec quelques sacs de plomb.
- If the false thickness is not regular (bending defaults), put a ruler on (protected with packaging tape), and press with a few lead bags.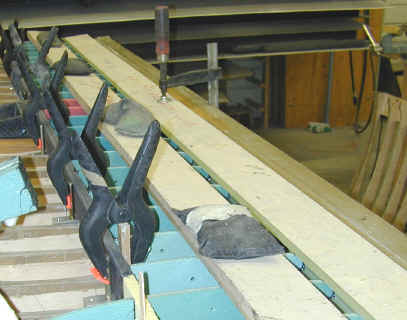 - Posez une règle sur les queues de nervures, et maintenez en appui avec quelques sacs de plomb. Attention de ne pas faire basculer les nervures !
- Put a ruler in the trailing edge ribs, and hold pressed with lead bags. Be careful : don't make all the ribs collapse !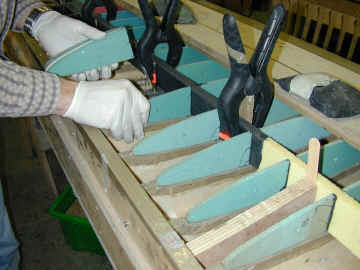 - Sur le même principe, encollez les becs de nervures et collez-les sur le longeron.
- On the same principle, spread glue on the leading edge ribs and bond them on the spar.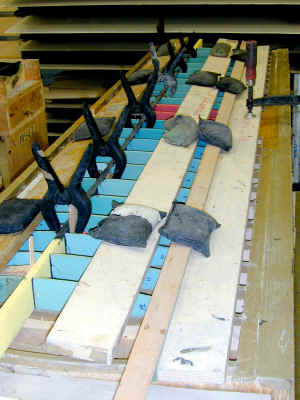 - Posez une règle dessus et maintenez avec des sacs de plomb.
- Put a ruler on and hold with lead bags.
- Essuyez les coulures de colles qui gèneraient le colage du revêtement.
- Remove the glue drops that would hamper the skin bonding.
- Laissez sécher 24 heures.
- Leave it dry 24 hours.
---

Retour sommaire.