Retour sommaire.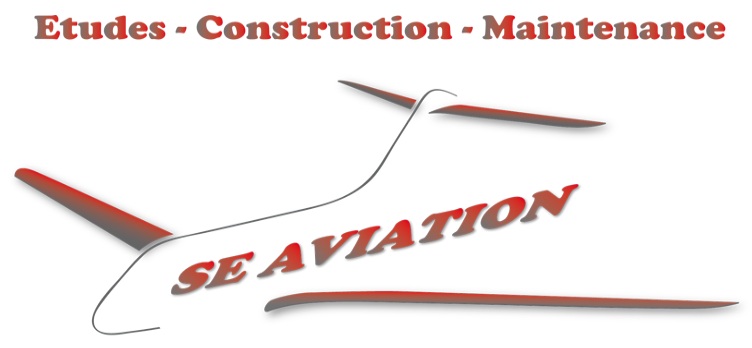 COLLAGE DU REVETEMENT D'EMPENNAGE HORIZONTAL
TAILPLANE SKIN BONDING


Edition 04/01 [mise à jour 14/10/2003]
---
---
- Préparation du squelette / skeleton preparation :
- Poncez les coulures de colle qui gêneraient les collage du revêtement.
- Abrade the glue drops that would hamper the skin bonding.
- Poncez la structure centrale carbone (nervures et "boites") au papier de verre 120, sans attaquer le carbone. Ne pas poncer le longeron, il est déjà apte au collage (tissu de délaminage enlevé).
- Abrade the central carbon structure (ribs and "boxes"), with 120 sandpaper, without attacking the carbon fibres (no black dust). Don't abrade the spar, it is rough enouh, thanks to the removed peel-ply.
- Coupez le longeron et le faux longeron, pour obtenir une "envergure" 20 mm plus courte que la tôle de revêtement.
Exemple : pour ULC / 4S : longueur de la tôle : 2420 mm => longueur longeron 2400 mm.
But : pouvoir ensuite emboiter la grosse nervure de fixation du saumon.
- Cut the spar and the false spar 20 mm shorter than the aluminium plate.
Example : for the ULC / 4S : al. plate length : 2420 mm => spar length : 2400 mm.
Aim : be able to nest the "wingtip" fixation rib.
- vérifiez qu'il n'y a aucune goutte de colle dans le fond de la boite d'attache des ferrures d'articulation ! Il devient très difficile de les enlever une fois le revêtement collé, quand on veut installer les écrous de fixation des ferrures d'articulation !
- Check that there is NO glue drop in the bottom of the articulation bracket box. It is very difficult to remove them when the skin is bonded, when you want to install the nuts !
- Dépoussiérez l'ensemble du squelette à l'aspirateur
- Vacuum clean the whole skeleton.
- Dégraissez la structure carbone centrale, le longeron et le faux longeron, avec de l'acétone.
- With acetone, degrease carbon central structure, the main and false spars.
Preparation tôle / Skin preparation :
Revêtement aluminium seulement
Epoxy coated aluminium skin only :
- Vérifiez que le laquage éopxy à l'intérieur de la tôle a bien été dépoli au Scotch-Brite.
- Check that the epoxy coating on the inner surface of the skin has been correctly unpolished with Scotch-Brite.
- Essuyez la pousière
- Wipe the dust.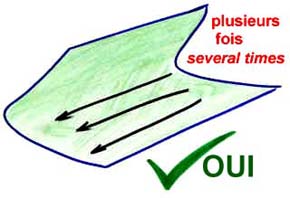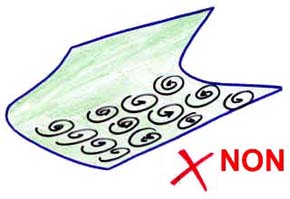 - Dégraisser à l'acétone (maxi 1 heure avant le collage, et en laissant la tôle à l'abri)
Attention, en dégraissant, pour ne pas laisser de trace de poussière d'époxy, respectez le schéma suivant. (Collage sur pièce poussiéreuse = très mauvais collage).
- Degrease with acetone (max 1 hour before bonding, and leaving the skin dust-safe).
Attention, when you degrease, not to leave some epoxy dust traces, wipe as shown in the following drawings. (Bonding on a dusty surface = bad bonding).
Pour les revetements en carbone : retirez le tissu de délaminage max une heure avant collage. En cas de doute sur la "propreté" de la surface, bien nettoyer à l'acétone.
For carbon fibre skins : remove the peel ply max. 1 hour before bonding. In case of doubt regarding the "cleanness" of the surface, carefully wash it with acetone.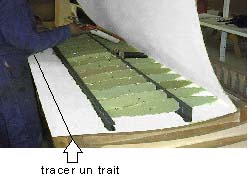 - Poser le revêtement dans l'outil, et maintenir ouvert avec du scotch tendu entre la tôle et le devant du moule.

- Place the skin in the jig and hold it opened with an adhesive tape bent between the plate and the front edge of the jig.
- Tracer un trait sur le revêtement ayant comme référence la fin de l'outil (5 cm du bord de la tôle environ).
- Draw a line along the rear edge of of the jig.(about 5 cm from the skin rear edge).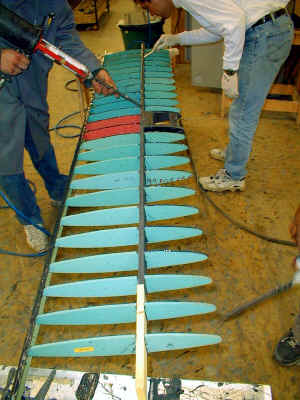 - Posez le squelette sur des tréteaux, l'extrados au dessus
- Put the skeleton on trestles, upper surface facing upwards.
- Encollez l'ensemble du squelette à la colle époxy A-175/400. Prenez soin d'étaler la colle sur le longeron, le faux longeron et les nervures carbone, de manière à éviter les bulles (a ce sujet, voir les conseils sur le collage dans l'index). Attention de ne pas mettre de colle à l'intérieur des "boites" en carbone.
- Put some A-175/400 epoxy glue on the whole skeleton. Take the time to spread the glue with a stick, on the spar, the false spar and the carbon ribs, so as to avoid bubbles (read the glueing tips in the general instructions). Mind not to put glue inside the carbon boxes.
- Retournez le squelette, et encollez l'intrados. Etalez bien la colle sur la structure carbone centrale.
- Put the skeleton lower surface up, and put glue on this side. Well spread the glue on the central structure.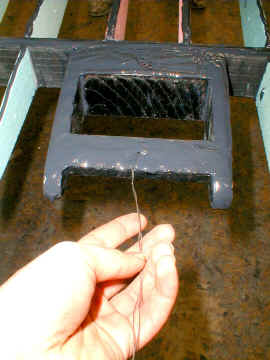 - Passez un fil à freiner (50 cm) dans le trou au milieu de la "boite" avant de la structure carbone centrale.
- Pass a 50 cm long safety wire in the hole in the middle of the central carbon structure front "box".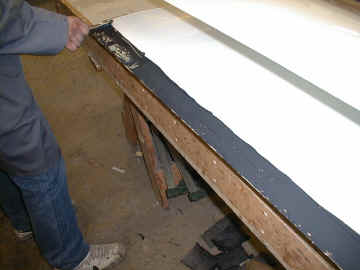 - Encoller le bord de fuite en suivant le trait.
- Apply Epoxy glue on trailing edge along the line previously traced.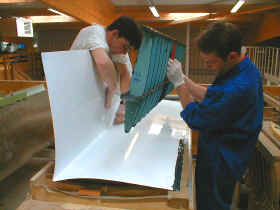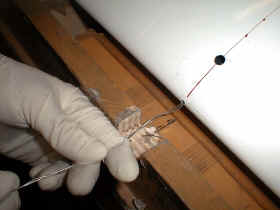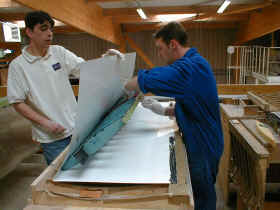 - Glissez le fil à freiner dans le trou de 3 mm au bord d'attaque du revêtment, et insérer le squelette en le faisant glisser le moins possible, pour éviter de racler la colle.
- Pass the safety wire through the 3 mm hole in the skin leading edge, and insert the skeleton in the skin, without sliding it , not to wipe the glue.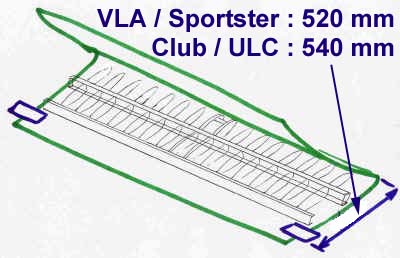 - Coller les plaques de renfort de la liaison saumon / empennage au bord de fuite, en les faisant dépasser de moitié, à :
- 520 mm du bord d'attaque pour le VLA
- 540 mm du bord d'attaque pour le Club et l'ULC.

- Glue the aluminium stiffeners for the trailing edge between the tailplane and its wingtip, let them overtake half. Position is :
- 520 mm from the leading edge for the VLA
- 540 mm from the leading edge for the Club and ULC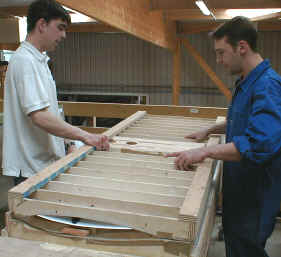 - Posez la partie supérieur du moule. Maintenez avec des serre-joints, sans serrer pour le moment.
- Put the upper part of the jig on, and hold with clamps, without tighening them for the moment.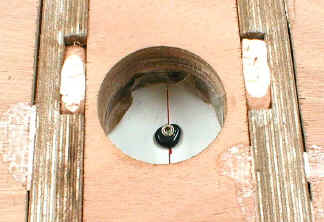 - Mettez une vis CIREE de 4 mm dans les trous au centre des boites de la structure centrale. Ils doivent être (à peu près) centrés dans les trous de 8 mm du revêtement.
- Putt a WAXED 4 mm screw in the holes on the middle of the carbon boxes. They may be (approximately) centered on the skin 8 mm holes .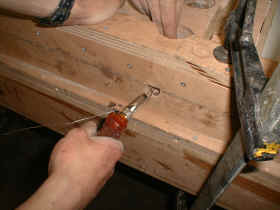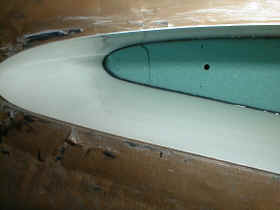 - Faites plaquer le bord d'attaque du squelette dans le revêtement, en tirant sur le fil à freiner, et en poussant sur le longeron aux deux bouts.
Serrez progressivement les serre-joints en vérifiant toujours le positionnement du squelette.
- Put the skeleton leading edge against the skin, pulling on the safety wire and pushing on the spar tips.
Tighten the clamps step by step, checking the skeleton positionning.
- Une fois serré, retirez le fil à freiner
- Once tightened, remove the safety wire.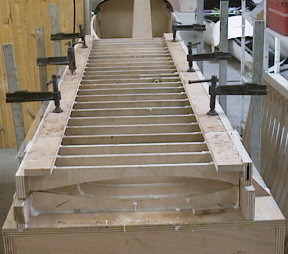 ---
Collage renfort central :
Central reinforcement plate bonding:
ATTENTION sur les revetements en carbone ce renfort est intégré dans la structure
Il ne faut pas coller le renfort supplémentaire en aluminium !
ATTENTION on the carbon skins the reinforcement is included in the carbon structure. Do not glue the aluminium plate !
PREPARATION
- Dépolir une face de la tôle renfort au scotch-brite.
- Unpolish one side of the reinforcement plate.
- Plier la tôle au centre, en utilisant le même outil de pliage que pour le revêtement. Mettez bien la face dépolie à l'intérieur...
- Fold the sheet in the middle, using the same jig as for the tailplane skin. Fold with the unpolished side in.
- Retirer le revêtement de l'outil, après séchage complet. (24h)
- Remove the tailplane from the jig, once the glue has completely cured (24h).
- Retirer les vis de 4 mm
Poncer les coulures de colle autour des trous de 4 mm.
Remettre les vis.
- Remove the 4 mm srews.
Abrade the glue drops that protrude around the 4 mm holes.
Put the scews back in.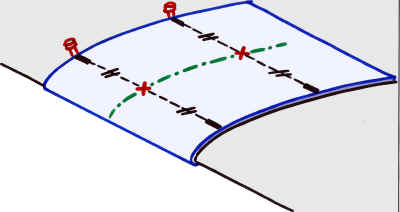 - Emboiter le renfort sur la gouverne, avec le bord contre les vis. Le bord d'attaque doit être bien plaqué.
- Tracer un repère de chaque côté, en face des vis de 4.
- Tracer une ligne entre les repères.
- Tracer la position des trous, sur l'axe de symétrie du renfort.
- Slide the reinforcement on the tailplane, with one edge against the screws. The leading edge must be well pushed against the tailplane.
- Trace a mark, face to the scews, and do the same on the other side.
- Trace a line between these marks
- Locate the hole position, on the reinforcement centerline.
- Percer les trous (diamètre 5, pour faciliter le montage avec la colle).
- Drill the holes (5 mm diameter, to facilitate the mounting with glue).
- Remettre le renfort sur la gouverne pour vérifier que les trous sont alignés. Remarque : on peut aggrandir les trous dans le renfort sans danger (jusqu'à diam. 8)
- Put the reinforcement plate again on the tailplane, to check the holes are aligned. Note that if required, you can enlarge the holes in the reinforcement without any danger (up to diam 8)
- Repérer la position du renfort sur la gouverne. Dépolir le revêtement de la gouverne au scotch-brite (dimension du renfort + 5 cm ).
- Locate the reinforcement place on the tailplane. Unpolish the tailplane skin at that place (reinforcement dimension + 5 cm).
COLLAGE
- Dépoussièrer, et dégraisser les 2 surfaces à l'acétone.
- Wipe the dust, and degrease both surfaces with acetone.
La surface à coller étant relativement grande, il est difficile de ne pas emprisonner de bulles.
Pour éviter cela, procéder de la manière suivante :
The surface to be bonded being relatively large, it is difficult no to trap bubbles. To avoid thisn follow these steps :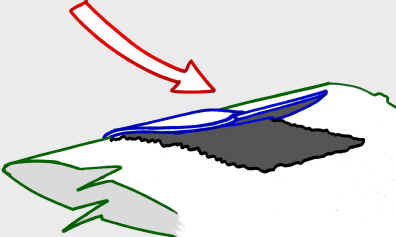 - Faire un double encollage : une fine couche de colle sur chaque surface, étalées bien régulièrement avec une spatule.
- Emboiter le renfort au bord d'attaque, en le maintenant "ouvert".
- Plaquer la tôle progressivement vers l'arrière.
- Spread glue on both surfaces : a thin film of glue on each, well levelled with a stick.
- Nest the leading edge, keeping the reinforcement plate "opened".
- Apply the plate gradually from the front to the back.
Cette technique utilise plus de colle que nécessaire, il est normal de devoir en essuyer beaucoup.
This technique uses more glue than really required, it is normal to wipe a lot of it.
- Remettre les vis de 4 cirées dans les trous pour que la colle ne les bouche pas.
- Put the 4 mm screws, waxed, in the holes to prevent the glue from obturating them.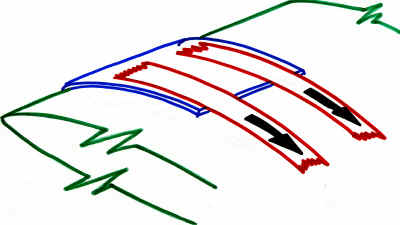 - Maintenir le renfort plaqué contre le bord d'attaque en collant des bandes de scotch bien tendues entre le renfort et le revêtement.
- Hold the reinforcement applied against the leading edge, bending some adhesive tape on th tailplane skin.
- Essuyer l'excédent de colle.
- Wipe the excess amount of glue.
---

Retour sommaire.