Retour sommaire.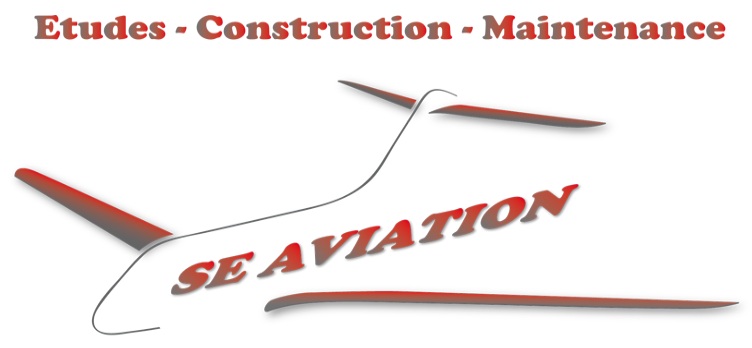 COLLAGE DES SAUMONS - EMPENNAGE HORIZONTAL
TAILPLANE TIPS BONDING

Edition

04/01
---
---
Collage saumon :
Tailplane tip bonding :
- détourage du bord marginal du revêtement : si après le collage, les bords du revêtement ne sont pas alignés, ce qui arrive fréquemment (de 3 ou 4 mm), tracez une découpe perpendiculaire au bord d'attaque et en enlevant le moins possible de matière, tout en laissant la même cote de chaque côté de l'axe de la gouverne.
- Skin outer edges contouring : if once bonded, the edges of the skin are not face-to face (which happens quite often, of 3-4mm), trace a cutting line perpendicular to the leading edge, removing as less material as possible, and keeping in mind the symmetry of the tailplane (leave the same length on each side of the centreline).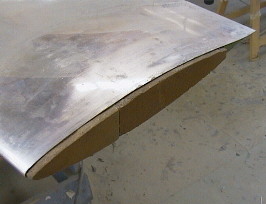 - Coller les nervures de fixation du saumon, à l'époxy A175/400. (la nervure dépasse de 10 mm), et laissez sécher.
- Bond with A175/400 epoxy glue the tip ribs into the tailplane. (10mm outside the skin), and leave the glue cure.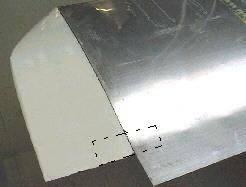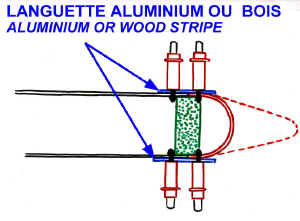 - Détourer, et emboiter le saumon sur la nervure. Préparez des languettes (protégées avec du scotch d'emballage pour démouler) pour le maintenir pendant le collage : les languettes sont bitardées à la fois sur le revêtement et le saumon.
- Trim, and nest the tailplane tip on the rib. Prepare some strips (protected with packaging tape, to de-mould) to hold it when you bond : the strips are hold with Cleco fasteners both on the skin and the tip.
- Coller le saumon sur la nervure à l'époxy A-175/400.
- Glue the tailplane tip to the tailplane.
---

Retour sommaire.